In the wake of their triumphant victory at the 2022 UIL State Championships and their remarkable participation in the Macy's Thanksgiving Day Parade last year, band and vision are poised to astound audiences once again with their upcoming show, 'Spotlight.' Fueled by their dedication, creativity, and desire to embark on a new journey of excellence, these exceptional performers are preparing to light up the field with yet another electrifying performance.
"I think being on national television in the Macy's Thanksgiving Day Parade essentially was a spotlight on its own; we were very much spotlit in front of the whole country, let alone the world," senior Drum Major Ethan Sarwar said. "Being in that scenario and environment has definitely positively influenced us for our show this year."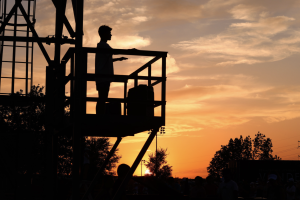 After achieving such remarkable feats, one might wonder how they could possibly raise the bar even higher. The answer lies in their unyielding commitment to achieving excellence.
"I think it's important to note that we are not [necessarily] looking to surpass the bar that we set last year, rather we're just working to put as much hard work and effort into this year," Sarwar said. "Whether the judges like it or not, that's their choice." 
The group's leaders and members are embracing the challenge of reinventing themselves, drawing inspiration from the past while incorporating new elements to create a unique and unforgettable production. 
Spotlight is set to be a seamless fusion of music, movement, and emotion, designed to evoke a spectrum of feelings from the audience. With a careful blend of traditional elements that have been admired by the group's fans, alongside new choreography and musical arrangements, the show will be an indication of the group's willingness to evolve while staying true to their roots. 
"There's a lot of pressure as we're held on a higher pedestal right now," Sarwar said. "It's important to know that we are grounded and we're not higher than anyone, rather, we're on the same level as everyone else."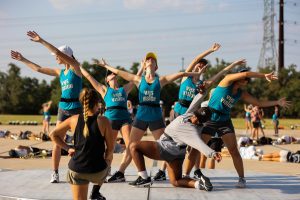 By embracing innovation and experimenting with unique concepts, band and vision are redefining the boundaries of their art forms. Having already achieved great heights in the past year, the group's determination to exceed expectations once again demonstrates their dedication to their craft. 
"Whether it be your Drum Major or Social Officer, whatever leadership position, everyone is collaborating and [embracing] this type of hype energy," Sarwar said. "It's just amazing to see throughout the band from the very first day to now, and we know it's gonna get hard, but it's important to remember and hold on to that feeling to fuel us throughout our season."
Audiences can look forward to a show that is not just a spectacle, but a passage of new excellence in the performing arts world. For these artists, the climax of their successes is not an endpoint, but a stepping stone toward even greater accomplishments.
"We have the biggest band we've ever had. In a show like this, it's important to remember that every single person is a contributor," Sarwar said. "It's definitely emotional because it's [our] last year as [seniors], and this show is dependent on what legacy [we] want to leave."