Three competitors qualify for UIL State Academics Meet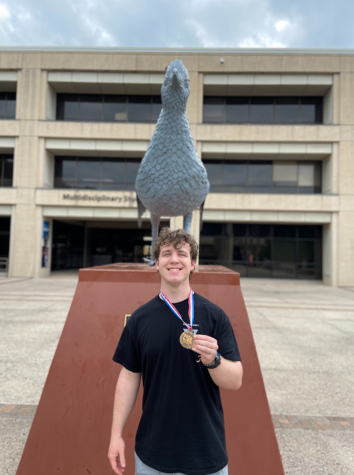 Last Saturday, 17 students traveled to San Antonio and UTSA to compete in the Region IV UIL Academic Meet. The top three individuals and top team in each event qualify for the State Academic Meet at UT on May 17. Three students placed in events qualifying them for the final meet in May. Senior Grant Royer finished third in Accounting in his first year competing. Junior Ryan Chin also placed third in Mathematics while the team traveled and placed fourth overall. Senior Isabel Young won the Editorial Writing competition as well as placed second in Copy Editing – her best finishes in the two competitions all year.
Two other students, seniors Dayna Ung and Abigail Lincks, competed in journalism and their finishes brought the team to fourth place. A strong science team also finished in fourth place behind a third place showing by senior Nihar Janga in Chemistry, specifically. The science contest split awards into Chemistry and Biology but only the top three individuals overalls move on to State. The Literary Criticism team won district and finished third at region. The Social Studies team went as a wild card team and finished third overall at region with freshman Lourdes Hernandez Peraza coming in sixth place overall.
Vandegrift came in 10th in the region sweepstakes just behind Vista Ridge. Westlake High School took the region title.