'Art of The Blade': Media students produce original short film
Five delinquents suddenly discover a painting worth $8 million. So, they set out a plan to rob the artist's item. In their world gunpowder was never invented, forcing them to master the art of the blade. The only way to retrieve their desired millions is to battle it out with swords.
On Jan. 18, Vandegrift Media Productions submitted this UIL film. Cast and crew were given two months to film and edit a seven minute action film titled "Art of the Blade," following a heist. 
"In high school you're not normally making movies because doing the real thing seems so far away to most people," director Nick Remy said. "But it's right there, you just have to work for it."
In AV Productions two and three, students are given the creative freedom to produce any type of film they choose, including their UIL film.
"There's this one quote I always think back to, which is 'it's hard to make good movies and it's hard to make bad movies,'" Remy said. "So, when we're on set it's a little stressful because there is so much to do and so little time, but other than that we are all here to have fun and create a movie."
When exploring a casting process, Remy decided to branch out from the typical setup of a film audition process.
"There were people I had in mind for the roles, so I [asked them] to read out a monologue from the script," Remy said. If I liked it, then that's fantastic. It was a pretty easy and normal audition process given that it was basically half of an audition process."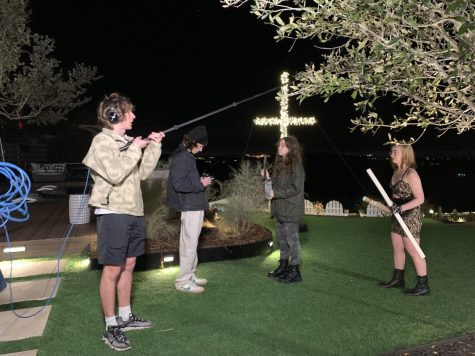 As the production started coming together, the crew planned to film everything in one day. Due to school hours and lighting however, they finished after three days. During this process, the cast and crew were able to grow closer and bond between scenes.
"Over the course of shooting, a majority of the time you are just sitting around and you have to get to know [the actors and crew] or else you will be bored the whole time," Remy said. So, we did. If this had been a feature length film and we had a lot of time to spend together, I think it would have been a lot of fun. But even the time we had spent together was just as fun."
There were a few conditions along the way that challenged their production process and allowed them to adapt.
"The last half of the movie is shot on an iPhone because we had eight batteries, but they were dead so we had to take our phones out as the next best thing," Remy said. "Honestly, with the color grade and the editing, it's really not that hard to tell."
Based on previous UIL submissions from other schools, Remy wanted to diversify the genre of film to something more unique that the judges haven't seen before.
"UIL is kind of a strange process with the judging because usually the same type of film wins every year where the main theme is high school drama, depression or quarantine," Remy said. "We didn't want to do what everyone else does because the whole point of movies is that you can't ever make the same one twice."
On set, the cast was able to work with fake blood and sores in order for their visualization of the plot to come to life.
"It was fun to mess around with swords and fake blood," Remy said. "A bunch of people who probably used to play pretend when we were kids getting to do it again was nice."
"Art of the Blade" can be found here: YouTube