Be Our Guest: Theater produces fall production of 'Descendants'
The wicked cast of evil and good pulls eyes to the stage with potions casted and music echoing throughout the auditorium. Smoke floods throughout, creeping around each character as they strike their final pose.
Theater department presents "Descendants the Musical" directed by Celeste Schneider and tech directed by Jeff Davis. The cast will be performing this fantasy and comedy duo show based around renowned villains and heroes on Nov. 3, 4 and 5 including a Saturday matinee.
"When the musical was first announced, I was a little unsure," cast member Kaitlin Black said.  "Then, we started the audition process and I started really getting into it. I got [the role of] Evie and was like 'this is amazing.' Now, I'm a huge "Descendants" fan; it means so much to me. It's like a family to me now. I see it and [think] that's my home away from home."
In the process of creating a magical stage production, cast members attended approximately two months of daily rehearsals consisting of music, choreography, lines and blocking practices. Through these rehearsals, Schneider and Davis notice gradual cast and crew improvement each day.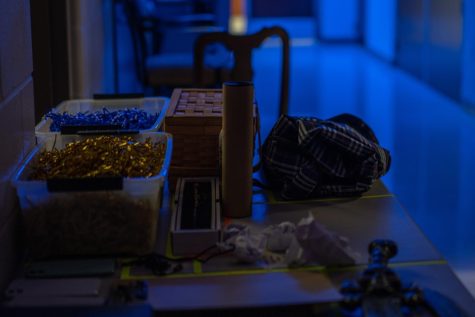 "Their singing was amazing; it blew me away," Schneider said. "I don't hand out compliments easily and I stood up on my feet and gave them a standing ovation. I was screaming like I was at a football game because they did so good."
Prior to becoming a stage production, "Descendants" originated as a Disney musical. Given that both versions are targeted towards children, Black wants to ensure their performance brings out the Disney aspect of the show.
"I want all of the kids in the audience to really feel like this is a Disney show," Black said. "I want all the kids in the audience to look up to me, see me and [say] 'I want to be like that when I'm older.'"
For several cast members, this production will signify their final musical as thespians. Senior stage manager Beth Eden prepares for a successful show as this is one of her last shows with the school.
"I realized that there were [new] people that didn't know what they were doing as much," Eden said. "It made me realize that I have so much knowledge in my head of technical things, building sets and theater in general. It reminded me [I] put a lot of work into this. It was cool to be able to teach others about it."
About a month before performance week, cast and crew organized a potluck rehearsal. 
"We had our famous crock pot rehearsals and all the kids brought their own crock pot dish from home that they made to share," Schneider said. "It was a really fun evening where we really bonded and got closer. The energy was very high."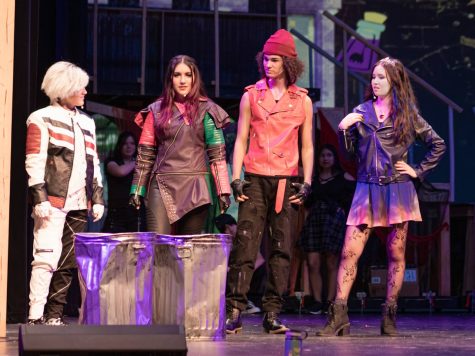 As the cast delve into their parts, they are given freedom to experiment with their characters and perform them in a way they personally believe would be best portrayed.
"I feel like we have a lot of room to work with our characters," cast member Devon Schaffner said. "It's not really all that stiff and set in stone, which is something I like."
While "Descendants" is generally shorter than the average musical, Schneider said there are high expectations in portraying the classic originals and staying true to them.
"My main goal for opening night is to sell out the house," Schneider said. "I want the kids to do the very best they've ever done and to have fun."
Tickets available at https://vhstheatre.ludus.com/index.php?show_id=22572