Chamber, tenor bass choir selected for national conventions
The tenor bass and chamber choir will attend the 2023 Texas Music Educators Association (TMEA) and American Choral Directors Association (NACDA) convention. This opportunity recognized both choirs as one of two, top 6A performers of their categories in America.
"We have rehearsed over and over again to get to perfection so we can perform in February," tenor bass member Armaan Azam said. "It just feels so surreal that we were selected out of everyone in Texas; out of every varsity bass [choir]."
Choir directors Michael Zook and Emily Chandler submitted various songs and performances over the past three years from both groups to meet eligibility requirements for convention participation.
"Every A-day we go to chamber choir and we learn our music," member Casey Caldwell said. "We have a couple of after-school retreats; overall repping the music and really perfecting it, refining it and making sure that it's the best it can be."
This winter, tenor bass will be attending the TMEA convention on Feb. 10 in San Antonio beginning at 7 p.m. while the chamber choir travels to their NACDA convention in Cincinnati, Ohio from 10-5 where they will perform their selected music.
"I'm looking forward to traveling just as a group with all my friends," Caldwell said. "I think just being up on that stage, it's doing to be pretty surreal and just a magical feeling."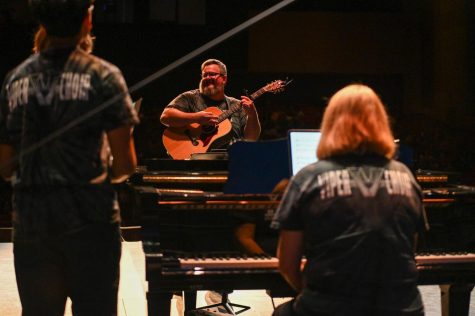 Increased membership since August has ushered new talents in both groups, creating a dynamic of kinship during rehearsal that can only be encapsulated in members' mutual respect for each other's unique, strong performances.
"There's a lot of people I'd say in tenor bass who are new to higher level music or new to choir," Azam said. "There's even someone who is new to choir and going to the convention with us."
Members will continue to attend rehearsals and retreats leading up to February conventions. Their hours of commitment and effort keep group spirits high, but only practice makes success possible.
"I feel as a Vandegrift student, excellence is [the] standard," Caldwell said. "I don't know if it [NACDA] will be real until we're up on that stage. I am very excited for that [feeling] to finally hit."