New mandates implemented on campus amidst Uvalde tragedy, past bomb threat
Amidst the tragedy of Uvalde, the state of Texas has issued new mandates and audits in place across campus. Once a week, assistant principals Jayme Spexarth and Collin Fletcher are now required to do an exterior door audit, a formal audit and report their findings to the state. All exterior and interior doors must be locked during the day, so students must enter through the front entrance of building one. Narrowing entrance accessibility ensures administrators can better verify who, when and how individuals are entering the building. 
"In the past, we tried to keep doors locked and not propped, but we would sometimes let convenience outweigh safety," Spexarth said. "The biggest change is now, safety comes first, even when it's not convenient."
At the district level, there are few individuals in safety and risk management who have previously partnered with administrators and student resource officers in unannounced, periodic audit checks, namely director of security Russell Bundy. As of the 2022-2023 school year, the state of Texas will send a monitor, randomly, to visit every school in the state, at least once, to make sure safety precautions are taking place. 
"We don't want to get into a routine and kind of get relaxed and start propping doors open and letting people in," student resource officer Joshua Garrison said. "It only takes a matter of seconds because someone could be watching."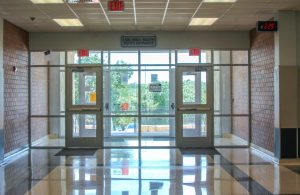 Though prohibiting fellow students from accessing the building from alternative entryways may seem harsh, Spexarth urges students and staff to think of these safety precautions on a larger scale.
"The scary, sad thing is mass shootings or random acts of violence are happening at parades and movie theaters or malls," Spexarth said. "One of my goals is that students, long term, get familiar with how to keep themselves safe and could be able to apply that to situations outside of school also because unfortunately, that could save someone's life."
Student resource officers Joshua Garrison and Kim Richards are assigned to a specialized operation, particularly the school resource officer unit. This unit is contracted with Leander ISD, as LISD doesn't have their own police department. As a result, LISD has to rely on agencies such as Cedar Park, Leander Police and Travis County to provide law enforcement functions for the school.
"Trust the school that they're doing the best they can given recent events," Garrison said. "Trust the sheriff's office in providing safety for their students. I don't have children of my own, but the students here, I treat them as if they were like my kids."
The campus' April 27, 2022 bomb threat initiated a lockdown in place for students and staff, lasting several hours. Ultimately, students and staff were released from this lockdown and no further updates were given about the source of potential danger. Until Aug. 17, when Spexarth received a letter from a district attorney in Dane County, Wisconsin, identifying the source of the bomb threat. 
"I knew from the very beginning that it probably wasn't real," Spexarth said. "They mispronounced McNeil Drive and some of the other details didn't line up for me."
The Dane County, Wisconsin district attorney's office has issued charges, including bomb scare party to a crime and terroristic threats as party to a crime, to a 17-year-old young man regarding incidents that happened in April, occuring on campus and another threat, at the end of February. 
"This was basically done to a different school in Pennsylvania as well and they had to undergo the same thing," Spexarth said. "They were able to make the connections and tied back both threats to the same guy." 
The perpetrator called Round Rock ISD Police Department, issuing the bomb threat. The department then routed the call to Travis County 911 Dispatch, who contacted campus SRO's and informed the administration.
"A lot of times, I kind of feel like frequently people share things on social media that they've seen because it does create a little hype," Spexarth said. "Maybe they want to get out of school, but this is evil." 
After the Austin Police Department arrived on campus, administrators had already implemented lockdown in place protocols, safety zones had been set up and law enforcement with the administration had prepared to begin the process of clearing the buildings, when Spexarth recalled the APD characterizing the campus' response as "the best, most organized high school response they had seen, ever worked."
"The culture of safety and taking care of each other starts with me, that starts with an assistant principal," Spexarth said. "We're the ones that are out and about, setting the expectations."
While the administration felt they responded fairly quickly to suspicion, many students stuck in classrooms for hours felt the threat was never ending, their worry only heightened amidst rumors running rampant, like a kidnapper in a black SUV or pipe bombs located inside the school, spreading across social media.  
"Please don't reshare and reshare and reshare because that makes our job of getting to the bottom of where it exactly came from even more difficult," Spexarth said. "You may just be resharing because you think it's interesting, but for somebody that might view it, it may cause real fear and anxiety for them."
According to Garrison, the best thing students can do in a lockdown situation is follow instructions from teachers, stay quiet, stay off their phone, barricade the door if need be and wait to hear updates from law enforcement. 
"Our first instinct is to go to the threat that's actually on campus," Garrison said. "By doing that, we make sure that the school has been placed on a lockdown then go find the threat to neutralize the threat if need be. That's when we'll essentially reunify all the students with their parents."
If students or staff see anything that seems suspicious, they should notify an administrator, teacher or SRO. A major goal moving forward is to increase visibility, so foul play can better be detected. Ultimately, the community should continue to remain vigilant.
"We're making sure that there's processes in place, but it's up to everybody to really implement it," Spexarth said. "We all have to do our part in order to keep the whole Viper family safe."