StuCo inducts 2022-2023 officers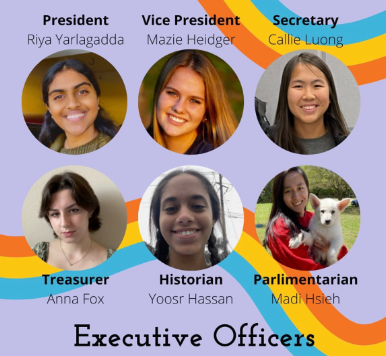 A few weeks ago, the new Student Council officers were elected and announced. Those elected to positions were voted on by their peers in Student Council. The final decision was voted on by the entire student body.
"I am really excited to work with the new officer team and see what exciting events we plan for next year," junior Riya Yarlagadda said. "I also have a few new ideas that I wish to implement to expand the leadership roles of class officers while allowing more students to voice their concerns."
Some of the executive officers are: President Riya Yarlagadda, and Treasurer Anna Fox.
"I am not only excited to work closely with Mrs. Mulligan, who is our wonderful Student Council sponsor, but I am also excited to work with the new 2022-2023 executive team next year," Fox said. "I have gotten to know each and every one of them over the past three years, and I think that with our collaboration, Student Council will be able to be bigger and better than ever before."
The process to run is a long one. A year of prior officer experience was required, on top of that was paperwork. Candidates needed to complete an application packet, have 2 reference forms, teacher recommendations, candidate signature, signatures from other Student Council members and sign up for an interview.
"Campaigning was always the part of the election process that I had dreaded each year," Fox said. "Overall, the packet and the interview were definitely not as difficult as I thought they were going to be, and I am so glad that I reached for the stars and ran for a position that I worked so hard for."
The Student Council Executive Treasurer entails keeping a detailed list of expenses and budget reports in order to be able to hold fundraisers, or do activities that require money. They also sign all of the Student Council purchase orders and deposit forms, and oversee the ordering of materials and distribution of purchased items.
"I never thought that I would get the chance to serve on the executive team for Student Council," Fox said. "Nevertheless, I chose to run for Student Council Executive Treasurer because I thought that using my experience as the TASC Director would translate well."
The Student Council President is in charge of coordinating with the sponsors and checking in with everyone, making sure that they are achieving their goals.
"I am definitely nervous about being able to be a great leader," Yarlagadda said. "Hillary, this year's president, has done an exceptional job and I really look up to her. I have already started preparing for next school and talking with Hillary to see how I can further impact and improve the student council."
All positions require immense work, and next year's candidates are well experienced and dedicated to lead Student Council.
"My favorite part about Student Council is the opportunities that it has provided me with my freshman and sophomore years," Yarlaggada said. "I have been able to make an impact on the school and be immersed in the school culture through these opportunities."