It's beginning to look a 'latke' like Hanukkah
Students celebrate their Jewish heritage
Standing at the table in anticipation, they light the first candle on the menorah. Families gather in awe and watch the fire brighten up the room with its flickering beauty. The recitations of the Chanukah Brachot, a blessing when lighting the menorah, fill the room with graceful murmurs. Juniors Natalie Weber and Benyamin Zilber are two of many students who observe an eight day holiday ingrained in their Jewish history: Chanukah (Hanukkah).
"I think Hanukkah [is special] because it reminds us of the horrors of the destruction of the second temple," Zilber said. "But at the same time celebrates the victory of the Maccabees and the miracle of the oil can."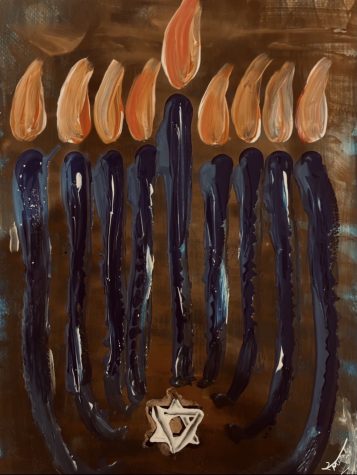 The holiday can mean a lot for Jewish people historically, but it creates a special time for grandparents to connect with their grandkids. Gift giving is a great way to demonstrate endearment and pass on a sacred tradition.
"Giving gifts was one of the ways my grandparents expressed their love," Weber said. "It was something that I'll never forget and always cherish. It's always so great to see everyone so happy together."
Different parts of Hanukkah hold a special place for different people. For Weber it is the gifts that she treasures because of her family. For Zilber, it is the songs.
"There are tons of songs one can sing," Zilber said. "My personal favorite is 'Echad Mi Yodea.' It's a really long and convoluted song, but I like it because I used to sing it with my sister every Hanukkah."
The Hanukkah celebration has songs, gifts, prayer and food. Weber said that the meals her family eats during Hanukkah are Latkes, which are traditional potato pancakes paired with applesauce, and Sufganiyot, jelly-filled doughnuts.
Aside from the various foods associated with the holiday, Hanukkah has many meaningful traditions. While the holiday is an important part of his heritage, Zilber enjoys focusing on its beauty instead.
"My favorite tradition is lighting the menorah," Zilber said. "It's really fun to put the candles in, light them and then watch them brighten up the room."
With its plethora of traditions, dishes and songs, Hanukkah is a well awaited celebration for many students. According to Weber, the importance of Hanukkah can be attributed to its historical significance to the Jewish people.
"Hanukkah is another Jewish holiday that shows the perseverance of past Jews," Weber said. "And when people were trying to take us away, we stood up and said no; this is our religion. And it feels great to celebrate that."