Does Vandegrift want a student mascot?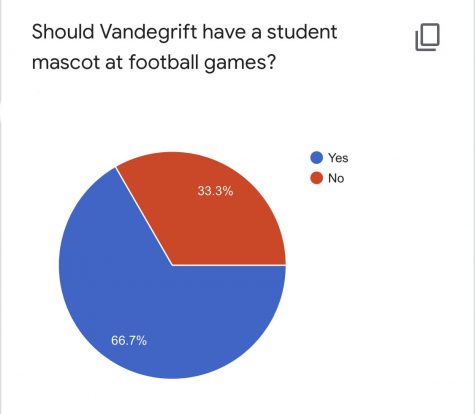 Vandegrift is known by its students for its student section during football games. With music, posters, section leaders to keep the hype going. Themes for every Friday game, and the football team's ritual as they run onto the field. What could it be missing? A mascot. A mascot is the classic high school attraction, someone to dress up and entertain the fans in between plays, and before the game.
Over half of the 48 students interviewed during lunch said that having a mascot would be a great idea, but what about the others? They said no possibly because they don't attend the games or because they think it's too much effort and money to have a mascot, which is why I propose the mascot to be a student. We can have them run just as the student section leaders and elect them based on popular demand. 
In my personal experience, the student section has always gone above and beyond, but having a student mascot would without a doubt set our student section apart from all the others in the district. It has the potential to start a school tradition, more student involvement, and of course fan entertainment.