Sanctuary on campus
Staff Recommends Spots for Newcomers
The 2021-2022 Vandegrift Voice staff returns to campus to start telling the stories of student life and reporting on relevant topics to the community.
Upon returning, many having been in virtual learning, the staff recommended some of their favorite spots on campus.
"New students should check out the library," junior Abigail Lincks, second-year staff member, said. "It's one of the quieter parts of campus where you can work on assignments, have a quiet conversation with someone or check out an interesting book. Valuable resources like books, printers, and the availability of librarians are always available for students."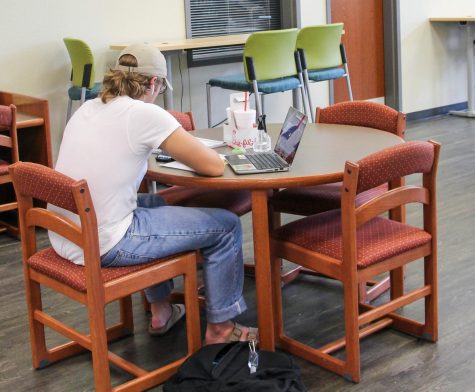 However, junior second-year staff member Yness Martinez says the library can sometimes get loud in the morning before school.
"If you get there early and need a place to do homework or chill it's usually a good place to go," Martinez said. "I do remember it occasionally getting rowdy, but it's still a good spot.
Sophomore first-year staff member Seiya Mutreja appreciates the design and how the library can feel spacious on a crowded campus, while third-year staff member senior Nicholas Scoggins likes how it provides opportunities for group work.
Away from the front of the building, senior second-year staff member Taylor Chronert shout outs the newspaper room, but also likes the cafeteria since she could go there after cross country practice for a study hall amongst friends and teammates.
"You have the inside gym right there, and it's where you can socialize the most," senior Karissa Gonzales, first-year staff member, said.
The outdoors areas in between the buildings also provide students a place to remove their masks and hang out with classmates.
"When the weather is nice, some classes are hosted in the commons, and students are known to hang around during off periods or lunches," senior Daniel Farrow, second-year staff member, said.
"I'm new to Vandegrift as of last year, for my first time on campus I thought that the courtyard area was really cool," senior Claire Janson said. "At Westwood, they didn't have nearly as much space for one, and I like how it is spread out as well."
The athletics fields, specifically the home of Friday night lights, came into the mind of special locations for staff members.
"I think a lot of people have fun memories [at Monroe stadium], and not even just the players but everyone," sophomore Gabriella Sevieri, first-year staff member, said.
The staff who experience the fine arts and related clubs pointed out spaces like the dance room.
"I love it so much, and it's such a fun space, especially if they are taking dance or cheer, it's for sure one of my favorite places on campus," junior Arabella Villarroel, second-year staff member, said.
"The theatre area is really cool," junior Dayna Ung, second-year staff member, said. "There is a shop with lots of wood work, a prop room, and lots of nice areas to hang out in."
The staff notes that students can find their place like these staff members have in the newspaper room.
"[In 1609], you are always going to meet someone friendly, and there is always something exciting going on to look into," junior Natalie Weber, first-year staff member, said. "The ambience of the room is just really inviting, and it makes for a great place to be creative in."