6 teams chosen to advance to ACCELerator program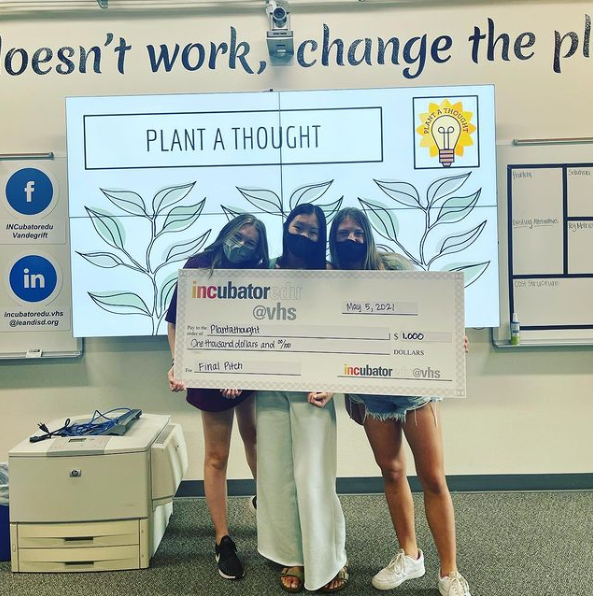 Of this year's 19 INCubator teams, six were chosen to continue on to next year's ACCElerator program, as was announced on May 5. In ACCElerator, the teams will take what they designed and developed in their INCubator class and run a legitimate, legal business, with the help of the $1000 in funding they each received.
"[The students] did a great job this year," INCubator teacher Ms. Mathis said. "[INCubator is] always very difficult, but this year, most of these teams have never even met face to face. It made it a lot more difficult to build that team unit, so [that] they were able to produce the amount of work that they did [despite those] difficulties is pretty amazing."
The teams were selected by a judges panel, with team Plant A Thought taking first, Miximize second, iQuit third, PackaJoy fourth, StumpDump fifth, and Rekindle sixth. Normally, each team would receive funding based on their specific ranking, but because of COVID this year's funding was distributed evenly.
"I'm so proud of my team for how far we've come and for placing first in finals," Eliot Jones, CEO of the Plant A Thought team, said. "[Our team] can't wait for next year and all the opportunities being in ACCElerator will bring! We plan on selling to the public next year as well as continuing to communicate with our audience through social media and do giveaways. We think it's important to be close with our followers and get their opinion on future designs and really keep up with our interactions."
According to Jones, Plant A Thought is a business that uses succulents in specially designed pots to promote positivity and motivation. Because Plant A Thought took firstplace, Jones and her teammates, Maya Chau and Emma Parker, will also be one of 150 teams to participate in National Pitch, where they could receive even more funding for their business.
"This program has solidified my plan to major in business in college, and I feel more confident in my abilities to put myself out there for potential intern opportunities," Jones said. "This class will definitely make me stand out on my resume and put me one step ahead experience wise in my future career."
iQuit is an app that targets high school students to help them quit nicotine by certain incentives, like tracking how much money a user saves from not spending on cigarettes or vapes, according to Matthew Smith, the team's CEO. Smith's other teammates, Christian Casolari and Karston Towers, will not be continuing in the program next year, so Smith will hire new teammates from the INCubator teams that weren't chosen for ACCElerator.
"I've wanted to make my business for a while now, and I think [this program is] a good resource to get started, to learn," Smith said. "I'm taking this class in coordination with that, so I can learn what to do when the time comes. It's a really supportive class, [and] the teachers are really helpful."
Rekindle is a subscription box focused on relaxation that has weekly themes to add variety, and the team is made up of students Ryan Ballard, Trevor Chatman and Justin Kimball.
"I feel really confident in our product," Ballard, the team's CEO, said. "It's come a long way since we first started, and there are so many people that we've interviewed and taken feedback from that have expressed a lot of interest in [it]. A lot of people that we talk to seem to think that this is a great idea, and they're excited to see it actually develop."
After developing their ideas, the INCubator teams pitched their business to a panel of judges in February, where they received funding to work on their MVP, or minimum viable product. The teams then took the prototypes they developed and pitched them to the judges a second time in April, who then decided which teams should move on to the ACCElerator program.
"[INCubator is] a pretty amazing class, there are some great opportunities to learn and develop something that's entirely your own and your team members'," Ballard said. "It's really amazing. There's like a sense of pride behind it, when you look back and [think], 'I've made this'."
According to Ms. Mathis, she and Ms. Lucas, the other INCubator teacher, help guide the students in their businesses and idea development, and entrepreneurs come in to mentor the students, but in the end the students are the ones who put in the work and make all of the decisions. "Honestly the best part of [this] program is how encouraging everyone is," Jones said. "From Mrs. Lucas and Mrs. Mathis to our mentor Mr. Sarantakes, they're constantly pushing us to be better students, thinkers, and people in general. While it's incredible getting to take an idea and make it a reality, we wouldn't have been able to do it without our incredible support system and relationships we formed in this class."
About the Writer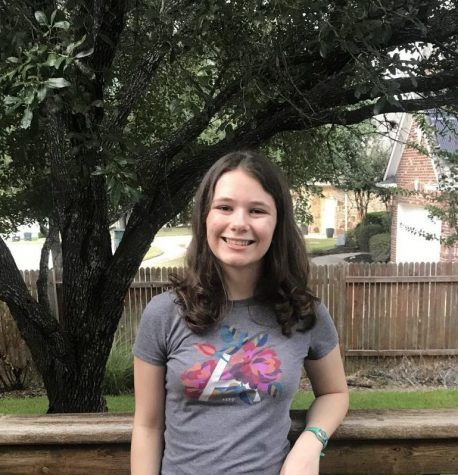 Brianne Chase, Staff Reporter
Brianne Chase is a junior at Vandegrift and this is her first year in newspaper. She has been in choir for six years and is a part of the women's varsity choir. After she graduates, Brianne plans to study microbiology at BYU, although she hopes to also continue writing in her free time.