Masked musicians
Band receives sweepstakes in spring UIL concert despite COVID-19 pandemic
On April 14, all four UIL bands performed and received UIL Sweepstakes meaning that all four ensembles received an overall first division rating in both categories of sight reading and in concert. Band has been learning and rehearsing these pieces since January 2021.
"I have three trumpet solos within the UIL program and I was really proud on Wednesday because I thought I played them really well," trumpet player and junior Larson Roberts said. "It's so easy for people in that specific situation to constantly be worried of messing up or not being perfect, so it's a skillset to push those thoughts away and to just focus on being in the moment and having fun playing your instrument. I believe that the UIL performance was one of the best performances that we had on each individual piece by far. There was a shared energy felt among the band members that gave so much life into each piece of music. That energy is so special and creates bonds and memories that continue outside of band and high school. [Looking back in the past], I don't think I would've been able to understand how much band has changed me as a person and how big of a role it has taken in my life."
"
Mr. Howard has taught each of us within the band to attach our own memories to each movement to make the music more personal to us which would result in more passionate and emotional playing. "
— Larson Roberts
COVID-19 has caused many restrictions including social distancing and masks. Band members sat six feet apart while practicing and performing. Before the pandemic, band members were able to sit closer together, making it easier for them to hear each other. 
"This year, because we were spread out, each person had to work 10 times harder to connect each part with another part across the room," trumpet player and sophomore Treasa Connors said. "We had to work together to be in time, move together, and be musical. We went above and beyond even with the restrictions and created music that could be enjoyed by all. [I'm glad] that we were able to have UIL this year and that we were able to create music together even with the restrictions."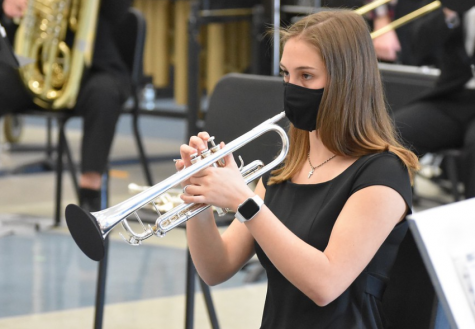 With so many events being shortened, minimized or canceled, the UIL performance was 'untouched' giving the music selection for the concert the time and feeling of any other concert held before the pandemic.
"I am beyond proud that we were able to play such a diverse range of high level pieces for our UIL performance given the circumstances of COVID-19," Roberts said. "It felt like we were performing a regular concert pre-COVID (with the exceptions of masks) which is something that both the students and audience members needed to experience again."
About the Writer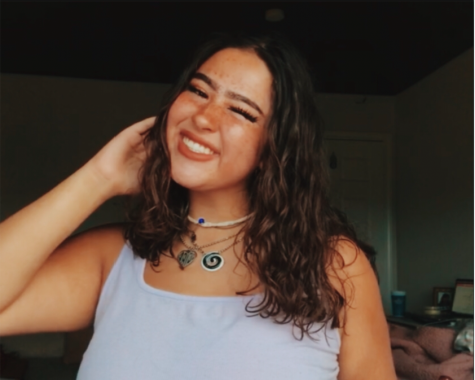 Priya Gregerson, Co-Editor
Priya Gregerson is a senior at Vandegrift. She decided to return to the Vandegrift Voice because she's passionate about getting to know other people and their stories. In her spare time, Priya enjoys listening to music, art and spending time with friends and family.