Covid Court
Court discusses homecoming amidst pandemic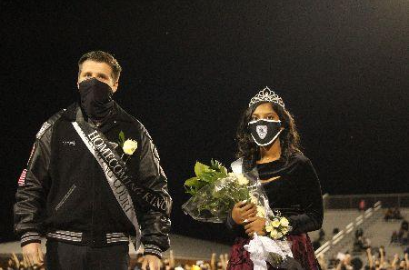 The final nominees for Homecoming King and Queen stood there, six feet apart, socially distanced, and with their masks on out on the football field, waiting to find out who won. The crowd in the stands went wild, screaming their names when it was announced that seniors, Tommy Hartman and Mukta Valluru were the Homecoming King and Queen winners.
"I felt really excited. My sister, Mary-Ellen, won two years ago and I basically wanted to do what she did, and I achieved that," Hartman said. "Winning homecoming was a historic moment because I am the second kid to win with autism after my sister."
Due to the ongoing pandemic, homecoming had to be laid out differently. Students said goodbye to this year's parade, pep rally, and dance in order to follow district safety-regulations 
"Homecoming was always going to happen," homecoming and prom director senior Emma Prilop said. "In our minds, we didn't want it to be cancelled. We wanted to be pros and have it happen instead of just cancelling it. It [was] us, the admin and district that were trying to make it work." 
The candidates running for Homecoming posted information on their Instagram stories for twenty-four hours, to get their name out there and tell students why they should vote for them. By Homecoming night, the final nominees were seniors Mukta Valluru and Luke Kemmerer, Ellie Foral and Tommy Hartman, and Ellie Seitzler and Ryan Back.
"I actually did not see myself winning prom or homecoming queen because I didn't think I was outgoing or personable [enough] to win," Valluru said. "[But I wanted to] win because I wanted to represent the band and everything the organization stands for."
All students walked individually and were kept six feet apart from the other people in the court. Masks were required and they showed pictures of the final nominees for homecoming
Valluru recalled that both she and Hartman were a little nervous, but also surprised when they were escorted as Homecoming King and Queen, not knowing that they would win. 
"It means a lot that I won homecoming king," Hartman said. "I really wanted to win and basically get the experience that my sister did. I remember the whole stadium went nuts when I won and they were shouting "Tommy! Tommy! Tommy!""
Last year's winners, Tori Secasa and Paxton Porter made it possible to come up from college to support and congratulate this year's winners
"It was really great to see them again," Valluru said. "Tori and Paxton were in band so we were all friends. I've known them since my freshman year and they were always two people I really looked up to because they represented everything a good leader stands for while still being approachable and friendly."
Hartman said that even though he had been disappointed about not getting to escort Mukta on the football field and the cancellation of the pep rally, parade, and dance, it was still a good experience. 
"It's a huge memory and my biggest high school memory, and the moment made the year so much better," Hartman said. "I will definitely come to next year's game to support next year's homecoming king and queen, just depending on what college I go to." 
Homecoming is a huge tradition for Vandegrift and even during this pandemic, it was still an enjoyable moment for the students and made them feel a sense of normalcy amidst such a chaotic time. 
"Homecoming is something you will remember forever," Prilop said. "[However,] it is hard for the senior class not getting to have the enjoyable memories that they wanted to have, especially not having junior prom last year, but we are trying to create better memories for them this year. It's the memories that make me want to do this."
About the Writers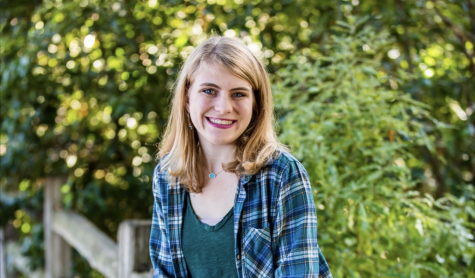 Taylor Chronert, Staff Reporter
Taylor Chronert is a junior and this is her first year on the newspaper staff. She is involved in Cross Country and Track at Vandegrift and has been doing that for three years. In her free time, Taylor enjoys reading, writing, listening to music, being outside, running, and spending time with friends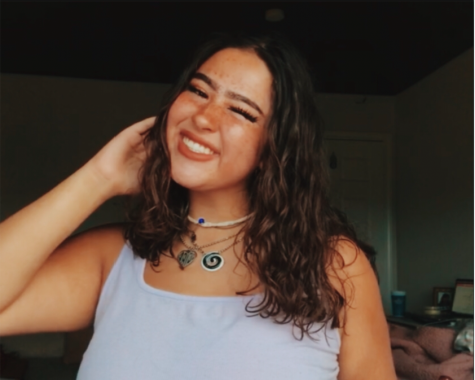 Priya Gregerson, Co-Editor
Priya Gregerson is a senior at Vandegrift. She decided to return to the Vandegrift Voice because she's passionate about getting to know other people and their stories. In her spare time, Priya enjoys listening to music, art and spending time with friends and family.