Vandegrift votes
First time voters prepare for Super Tuesday
Students like senior Noah Wolk, who are 18 years old, have the opportunity to vote in the March 3 primary tomorrow, known as Super Tuesday. They will help choose who they want to represent them locally and nationally.
"I'm going into the military so these kinds of political actions will affect me in the military a little more directly, so it's cool to be able to vote for somebody I could take orders from eventually," Wolk said.
Students will be voting for their prefered party's candidate for President in Texas's open primary, new House Representatives, a Texas senator and their local government officials. These primaries will determine who will be on the ballot in the general election in November. Government teacher Mitch Pryor has explained this to his students in the hopes they will exercise their right to vote.
"Voting is a form of power. If young people want their voices heard, this is one clear way they can do so," Pryor said. "I want young people to be heard."
After spending the past decade abroad, Pryor said that it frustrates him that Americans take their right to vote for granted. He believes not everyone in the world is lucky to have that right, and young people should take advantage of the opportunity.
"I will be voting for somebody who puts women's rights first and wants to see an improvement in the ability for women to access the medical services they need," senior Izzy Petersen said.
Petersen hopes to find a candidate who will work on preparing Texas to better combat climate change and doesn't support the expansion of the oil and gas industry. She believes Texas should focus on developing hydroelectric and solar power as well as wind power, because Texas is a state of many natural resources, a position senior Fiona Brown agrees with.
"I'm nervous because I want to make sure I'm fully educated, I don't want to vote for the wrong person, so I want to be able to do my research," Brown said. "It's super exciting because it's nice to feel like we have some control over what's happening."
The homeless issue in Austin is a big deal right now for senior Beza Galantis and she hopes to find candidates who will address the issue and do something about gun control. She doesn't want to vote for anyone that's going to promote border restrictions or tighter immigration laws. 
"We actually get to contribute what we believe to impact who's going to be representing us, so I'm very excited," Galantis said. "Also, now that I'm old enough to have my own ideas I can vote for someone who will uphold those."
Students are taking to the polls tomorrow, encouraged by parents, friends, and particularly their government and history teachers, to exercise the rights they've learned about in class.
"Voting for the first time, I don't feel as helpless as I've felt in the past, I'll actually be able to use my voice to say something," Petersen said. "I'm excited to see people my age voting, being able to voice their opinions for the first time at the polls, I think there's going to be a lot of good energy there on March 3."
About the Writer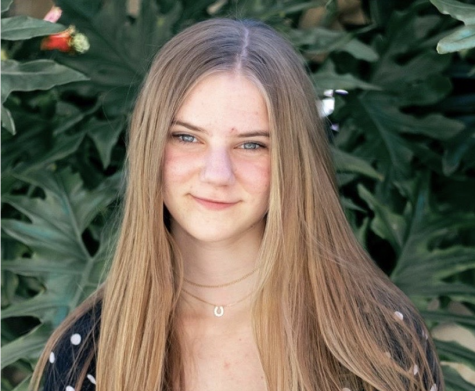 Katie McClellan, Co-Editor
Katie McClellan is a senior and this is her second year on staff. She's also a member of the yearbook staff and NHS. Katie loves to read, write, advocate, and spend time with her friends. She can usually be found on the lake or in Ms. Walker's classroom.