BRAVE program organizes blanket and sock drive for the homeless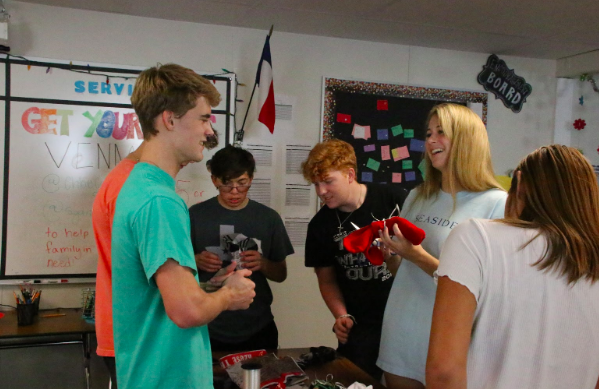 Bella Sanchez, Contributing Writer
December 13, 2019
During this cold winter, the new BRAVE program, formed from PALS applicants and volunteered PALS, gives back by collecting blankets and socks to donate to a local homeless shelter. Some BRAVE students will be going to the shelter on Wednesday to donate their collected items from the school-wide drive. 
"Mrs. Fruend created the BRAVE class because she saw that a lot of students want to help in their community but didn't make PALS," Codi Farmer, PALS vice-president said. "Because so many people apply, admissions into the program is very structured and must follow a point system." 
Since PALS is a very popular and rigorous class to get in to, BRAVE is another great option for students interested in community service. The class not only provides the opportunity for students to gain service hours, but it also enables students to meet new friends while helping the community within the BRAVE program activities. 
"I was brought up to live in such a good environment and go to a great school that has given me so many opportunities," Farmer said. "I realize that not everyone has been as blessed as I have been and it honestly breaks my heart." 
BRAVE was created as a class for Vandegrift students to be able to grow as leaders, serve the city, and become involved. As for the program's activities, BRAVE often gives back to the community by participating in and holding events such as Trunk or Treat in October and their Blanket and Sock Drive in December. 
"It's important to give something back, especially in the holiday season," Gabriela Schildberg junior and BRAVE student said. "It's a good way to help out and just give at least something. As for the construction, we wrapped them up and put a bow on them and wrote some cards for the people to feel good that they received a gift." 
Since its a holiday season, some people in Austin may not receive a gift this year– which BRAVE took into consideration when planning their Blanket and Sock Drive. They planned the blanket and sock drive two weeks prior to the event, which took great preparation and effort. The members tied decorative bows onto the blankets and wrote generous notes to the people at the shelter as a nice present. 
"I think the end goal of the program is just to help people, to make an impact on the school and on our community," Farmer said. "Obviously, everyone in the class has the heart to serve and wants to make a difference to help others, so that's really our goal right now." 
The BRAVE program allows students to not only help the city but the school as well. The program wishes for new incoming students to be active, involved, and have a helping hand in the BRAVE program.