Staff welcomes 3 new administration members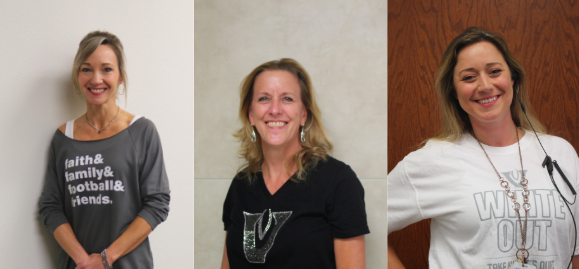 This year, the Vandegrift staff welcomed new members, including Assistant Principal Brittany Skillern, counselor Charity Escott and IB Coordinator Sherilyn Green. 
Prior to joining the Vandegrift staff, Skillern attended the University of Texas at Arlington to get her masters degree. Following this, she was a visual arts teacher for 12 years within the Round Rock School District. Her alpha is students with last names beginning with P-Sh.
Escott first worked at a school in Adelaide, South Australia, however, she later relocated to the Milton Hershey School in Hershey, Penn.. After this, she transferred to Concordia Lutheran High School in Tomball, Texas, where she worked as a school counselor. Her alpha is students with last names beginning with Hu-Ma.
Green originally worked as a math teacher in Massachusetts for 16 years. Following this, she worked as an IB Coordinator and Assistant Principal in the Rio Grande Valley for a year before relocating to Austin to work at Vandegrift.
I got the chance to ask these new staff members more about who they are and what they're looking forward to for their time at Vandegrift.
Brittany Skillern:
Why did you decide to become an AP?
I wanted to become an AP to serve a greater number of people. I loved providing guidance to my students and support to my teacher peers. I knew that by stepping into this new role, I could really focus on these areas of my career that feel so rewarding. 
Is this your first year being an AP?
Yes. I did have the opportunity to serve as an administrative intern while at Westwood High School, which basically meant I helped in various forms with AP duties for a minimum of 500 hours last year. So I do feel I've had some great experiences and opportunities before arriving here. And the administrative team here has been amazing at taking me under their wings and helping me learn as we go.
What are you most looking forward to for this upcoming year?
I am already having so much fun getting to know the amazing students, teachers, staff and community members here. Being able to meet new people and build new relationships has surely been something I've greatly looked forward to. 
Is there anything you want students who haven't met you yet to know?
I want all to know that my door is open, and I love it when students stop by to say hello. I look forward to meeting all of my kiddos over the course of this year. I'm so very proud to be a Viper!
Charity Escott:
Why did you decide to become a high school counselor?
As both a teacher and administrator, I found that there were many students who needed additional support at school. Although I was able to meet some of their needs in those positions, I wanted the opportunity to dedicate all my time to student and family support.
What are you most looking forward to for this upcoming year?
As a counselor at Vandegrift, I am looking forward to making positive connections with my students and the opportunity to watch them grow and flourish. Being a teenager is not easy, especially today. College admissions have become extremely competitive and complex, and while technology has its strengths, it also emphasizes perfection and that can leave people feeling inadequate. My hope is to help students and families navigate through these challenges and feel supported throughout their journey at VHS. 
Is there anything you feel particularly worried about?
I am responsible for more students at Vandegrift than I was at Concordia, so I worry that I will struggle to provide students and families with the support that they need and deserve. 
How do you plan to connect with your students?
My plan is evolving as I learn more about the students at VHS each day. Right now, I am looking forward to all the counselor/student meetings throughout the year so I can meet my students individually, but I encourage students to reach out to me at any time. I am always happy to help.
Sherilyn Green:
Why did you decide to become an IB Coordinator?
I have three adult children that were never afforded the opportunity of doing AP because it wasn't big then. Then, I heard about IB and thought that it was much better than AP, especially when I learned about the results of being an IB student. The colleges, the opportunities and advantages within the selections processes [for college] motivated me to become involved in IB.
What are you most looking forward to about the upcoming school year?
There's a lot I'm excited about. I came to Austin just for this, so even coming here was exciting. I'm really excited to see the band performances and truly, I'm looking forward to seeing the 42 senior IB students be successful. So far, 82 percent of our students got a five or better [on their IB exams], which is above the world average, so I'd love to see 80-90 percent of the students graduate with their IB diploma. Normally in IB, if even 10 percent of the students graduate with their diploma, you did well. I'm looking to knock it out of the park.
Is there anything you're worried about?
No, I'[m] fortunate that I will be working with a nice group of people here. They're all wonderful, and if I have any questions, there's always someone here to answer. I have a really strong base of colleagues doing the same thing that I'm doing so if I need help with something I'm doing, there's always someone I can contact. I really feel that I've received a lot of support and a lot of encouragement so, if any problems were to arise, I know that there are always people who will help me solve them.