Food Truck Face-Off
Austin is well-known for its unique and delicious food trucks. This year, the culinary class made a food truck business plan with varying types of food to embrace Austin's culture. The food that is made is then given to a panel of judges to taste.
"This idea of a Food Truck Face-Off came about during a meeting with other teachers from our district, culinary teacher Stacey Pomerantz said. "We wanted to come up with real-life relevant business projects that students interested in the culinary field could become excited about."
The students took this project head on, working hard to complete the business plan and make the foods of their choice.
"We started out by planning the business hypothetically," Senior Brock Evans said. "Then we typed up a report, pricing everything out, and from there bought our ingredients and started cooking. We were K-town, a Korean Barbecue food truck that specializes in LA cut short ribs."
During the at least two week span of the project, students had to create a company name, logo and plan of action to truly replicate how this would be done in real life.
"I wanted my students to learn how much energy it takes to run a successful business and how much culinary school you need to have a viable item to sell," Pomerantz said.
The students put in a lot of effort and time into this project and perfected it for the judges to come and taste test on Dec. 6 and 7. The judges consisted of teachers and admin.
"I thought it was awesome that these kids could show their creativity and that they all took different roles within their group," assistant principal and judge Kenneth Debord said. "Some on food preparation, some on presentation, and others on the design. They really put their skills on display for everybody and worked together as a team."
This is the first year Pomerantz has done the Food Truck Face-Off and she reflects positively on it.
"I think this project brought out so many other things in the students: math in terms of costing their recipes, writing because they actually had to write their business plan, employer skills because they had to interview each other and people in the industry and construction because they had to make a replica of their food truck," Pomerantz said.
The students, teachers and admin really enjoyed this project and the hard work the students put forth.
"I've never seen something so unique. It has Austin written all over it," Debord said. "How awesome is it to live in this city and be able to do a project at school that the kids really got into and enjoyed and had fun."
About the Writer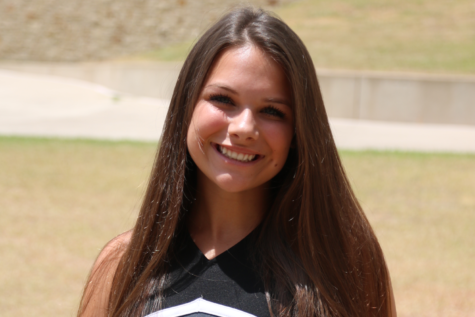 Cady Grace Wynn, Social Media
Cady Grace Wynn is a senior and this is her second year on staff. She is a varsity cheerleader and is involved in PALS. She loves to sing and play the guitar in her free time.