Student musicians perform at Pop-Unplugged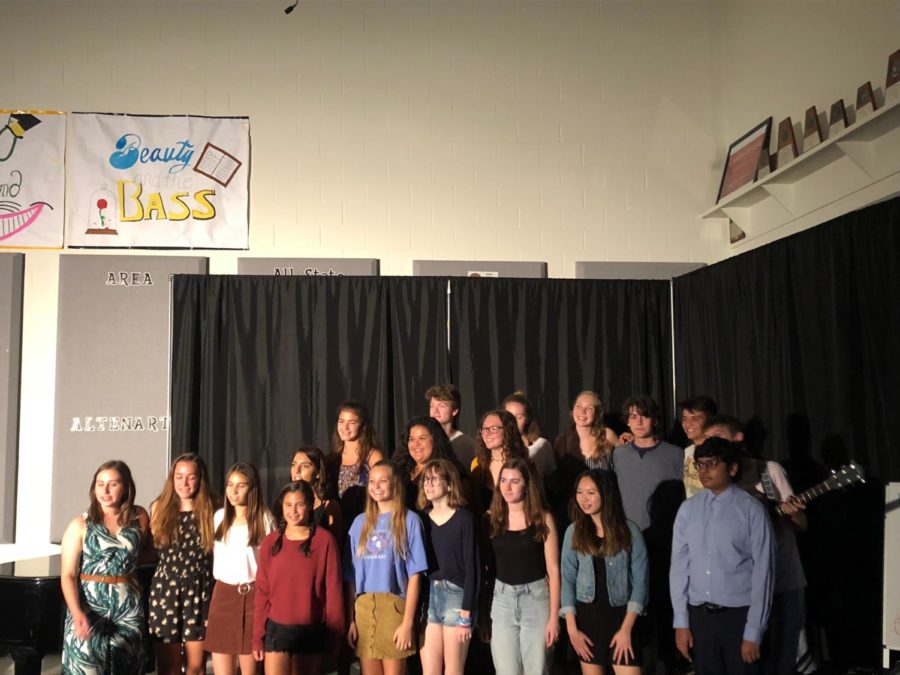 They all stood at the back of the choir room, anxiously waiting for the show to begin. The audience was filled with friends and family talking loudly, while the smell of cookies and coffee filled the air. One minute until showtime, the crowd goes quiet and the first performer is called up to the stage.
On Sept. 11, 22 student musicians got together to perform at Pop-Unplugged. There was a total of 14 acts who performed one song of choice. Each act was able to have acoustic accompaniment, which varied from the guitar, piano, ukulele and even a cajón box drum.
"This was not my first time performing in front of a crowd," junior Claire Lawrence said. " I have performed several gigs before but the fact that this specific gig was in front of a crowd of people from school and people that I knew made me a little bit more nervous than performing a show at a café in front of strangers."
Pop-Unplugged is a yearly event that has been hosted by the choir director Michael Zook for the past four years. The event is put together to resemble a coffeehouse setting with a single spotlight on stage with coffee and cookies for the crowd.
"I like the Coffee House radio station and I thought it would be cool to perform in front of people for fun," freshman Abby Held said. "I feel like when I'm with my guitar all my stage fright goes away, it just helps me when I sing. You rehearse and rehearse and then you think it sounds bad but when you perform it's the best thing because all the adrenaline just comes up and your just free and you just sing."
The event was open to all students of all grade-levels to come and perform. Auditions were held a week before the event on Sept. 4, where students were asked to do their entire performance in front of Zook.
"I did it last year," sophomore Noah Levine said. "My sister was in choir, she was a senior, she just graduated, and she pressured me into [performing] last year and I really enjoyed it. Then, I ended up doing choir, so I am in choir and band this year, and I just did it again because I enjoy playing and performing."
Lawrence, Held and Levine all said music has impacted their life for better by helping them grow as people, helping them through stressful times and helping them live their music based lives.
"Everything I do I just think about it musically," Levine said. "My dad plays too, I just got him back into it, and I've always told him, 'there's no other feeling like playing on stage." I really enjoy it. I've been playing for about seven years now but I can't remember when I didn't play. I feel like I've always done it."
Performances:
"House of Gold" by 21 Pilots performed by Abby Held
"Stay" by Rihanna performed by Noel Abitzen, Sophia Swoyer & Maile Youmans
"City for Two" by Lauryn McCosky performed by Lauryn McCosky
"Tin Man" by Miranda Lambert performed by Claire Lawrence
"Viva La Vida" by Coldplay performed by Emily Evans & Natalie Chu
"This Is Home" by Cavetown performed by Sophia Gaunt
"The Scientist" by Coldplay performed by Rose Norrod
"Star Born Lovers" by Ross Marburger performed by Ross Marburger
"Close to You" by The Carpenters performed by Taylor Mckinney
"Party Favor" by Billie Eilish performed by Sophia Swoyer & Lilly Guthrie
"We Are Vampires" by Jason Isbell performed by Noah Levine
"Count On Me" by Bruno Mars performed by Julia Santos & Sarah Lum
"Don't Know Why" by Nora Jones performed by Armando Tomlinson
"Give Me Love" by Ed Sheeran performed by Izzy Mendoza, Sam Overhauser & Mick Smith
About the Writer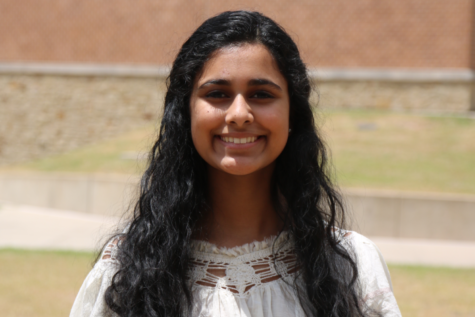 Harshita Avirneni, Spotlight Editor
Harshita Avirneni is a senior and this is her third year on the Vandegrift Voice staff. She joined newspaper because she wants to pursue a career in journalism. Harshita is also involved in UIL journalism, robotics and FCCLA.