Drumline closes in on first competition of the season
It is well known that drumline acts as the pulse of many exciting festivities throughout the year, from leading the student section at football games to building hype at pep rallies. And like all other aspects of band, being a part of drumline requires frequent practice and a great deal of focus and dedication. Now the drumline will be eager to display the fruits of their labor in upcoming competition.
The drumline will be travelling to Dripping Springs to perform at the Dripping Springs Drumline Competition this Saturday, and they have high ambitions to leave victorious. And while many of the percussionists are veterans of competition, the trip to Dripping Springs may act as an icebreaker for the rest of the competitive season.
"I'm definitely excited to win the competition, and to have a great performance with the drumline," center tenor section leader Justin Jalomo said. "Not only is it our first drumline contest, but it's also our first competition of the season this year. So I'm definitely looking forward to starting off the competition season well with a win."
However, for others in the drumline this Saturday will be their first taste of competition, which pin itself is a challenge for new members to remember.
"Making it as a freshman was pretty hard, and I just like the challenge that it's given me," freshman bass player Nick Sacasa said. "The most challenging part of drumline has just been the time, it takes a lot of time to get everything set for competition."
It is clear that frequent practice has aptly prepared the drumline for upcoming competitions, however, the percussionists have not been immune to pressure prior to this saturday's performance.
"We actually got music for the closing portion two weeks ago, and we had to memorize it the next day, so we've just been perfecting it ever since, just to make it as good a possible," drumline captain Izzy Ramirez said. "I think we all did really well under the pressure, but we also had more time to work on the music before the closing bit so it was a lot easier to add the last part on."
Fortunately the dedication of the drumline seems have paid off, as the drumline has high ambitions for the competition this saturday.
""I think we're gonna play really well, we've been working on it for a few weeks now," Ramirez said. "I think it's going to be pretty good, I'm looking forward to putting it out there for people to see."
About the Writer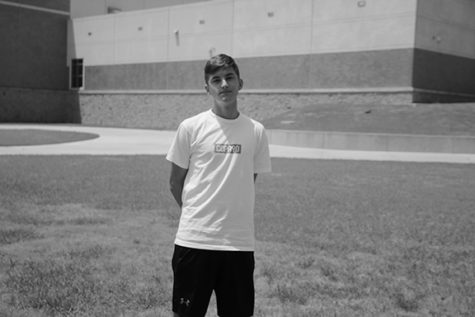 Miguel Blanco, Staff Reporter
Miguel is a senior and this is his first year on the Vandegrift Voice staff. He enjoys learning about history, spending time with his friends and loves anything about soccer.