Choir wins sweepstakes at UIL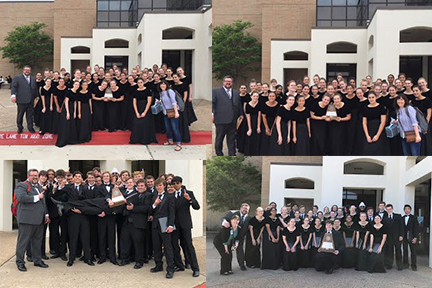 Choir attended the UIL evaluation at Leander High School last week. Each choir received sweepstakes for earning all ones in every category.
"We were really happy," sophomore Victoria Chavez said. "It was toward the last week when we all came together and sounded really good."
Scores are based off of a choir's sound, timing, and overall performance. The choirs have been preparing for UIL since the end of January, working during class and in weekly after-school practices.  
"I'm really happy because we got all ones," junior Julianna Allocca said. "We worked really hard to memorize our songs."
Choir started preparing for UIL at the end of January. Students attended weekly rehearsals and practiced during their class periods.
"I've just liked singing my entire life," Allocca said. "I joined [choir] in sixth grade. Singing is a passion for me and I just like it a lot."
The choirs also had a pre-UIL concert at the end of March to do a runthrough of the show in conditions similar to UIL, which was held at Austin Baptist Church.
"It's just like you want to get it over with," Chavez said. "Because you've been working so hard."