Sophomore Bridget Li takes the gold
Bridget Li is a sophomore with a passion for art and science, and she put both of her talents into competition. Li earned a silver and gold medal at the National Scholastic Art and Writing Competition in the editorial cartoon category and placed third in the Texas State Science and Engineering Fair in environmental engineering.
The National Scholastic Art and Writing Competition results were released early spring, and Li is the second student from VHS to have received a gold medal and is considered one of the top honors for a high school artist.
"I just drew a sketch of a rough cartoon idea I had," Li said. "Before, I had been taking art at a studio outside of school, but recently I stopped doing that because I didn't have time for it, but I do just draw at home sometimes. It's just for fun."
Li's cartoons that took gold and silver were Wage Gap and Predator.
"Wage gap was a man standing on top of a pile of money showing that his money elevates him so he can't see the anything other than his viewpoint," Li said. "For wage gap, I've always just been interested in issues facing women and I've always supported the idea of more rights for women and I wanted to show that in my cartoon."
Li's second cartoon, Predator was also indicative of women's rights.
"Predator was inspired by the whole Harvey Weinstein incident," Li said. "It shows him in one hand holding an Oscar and in another hand he's holding a scared woman."
While Li has a love for art, she said she will most likely not be pursuing art as a career choice, and will instead focus on the hobby side to it.
"It's kind of weird because I like art, but I also like science," Li said. "However, I do feel like being creative will be helpful to me in the long run."
Li became interested in science competitions when she became involved in the school science fair.
"I went to the first science fair meeting at our school, and it was kind of really disorganized," Li said. "Goshorn, it's her first year as a sponsor, so everyone else kind of ended up dropping out, but I stayed with it."
Li participated in the environmental engineering aspect of the competition. Her project focused on using seaweed to filter mercury out of water.
"For the seaweed project, I was just reading a bunch of research papers and reading what students had done in the past," Li said "I read about this student who had used cilantro to filter lead from water and I ended up researching something similar."
Li had the opportunity to work with researchers from the University of Texas and ended up advancing from the regional fair. She advanced to second place in her category and third overall.
"It was super fun meeting a bunch of other science students and learning about their projects," Li said. "They all seemed really good, so I didn't even think I would place, but it was fun."
Li hopes to be one of the eight that advances to the international level next year.
About the Writer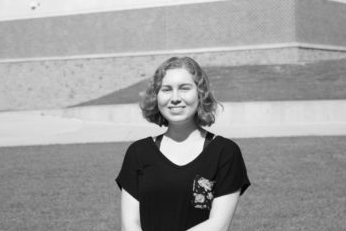 Caitlin McKeand, Co-Editor in Chief
Caitlin McKeand is a senior and this is her second year as a staff reporter for the Vandegrift Voice. In her free time, she enjoys reading, writing, archery, and dogs. Austinite born and raised. She is the Vice President of ASL Honor Society and works for the Riverplace Living Publications for the housing segment. One day she hopes to write a book.