Local art teacher featured in downtown Austin art exhibit
Every November, local students, teachers and artists visited a gallery that set up shop in the backyard of an East Austin house, the display apart of the East Austin Studio Tour which occurs every year throughout various spots in Austin. This year the first weekend took place on Nov. 11-12 and the second weekend on Nov. 18-19 from 11 a.m. to 6 p.m. Within the outdoor gallery, art teacher Thao Phan had her various pieces of artwork on display. Immediately after entering the hole-in-the-wall gem, good vibes practically slap one in the face. Music played ambiently in the background, hiding softly behind discussion regarding the handful of artists' work.
"The collection?  I'm with right now, this is our first year showing together," Phan said. "Artists Emily Bolt, Kate Robertson and I are working together, although this is my second year at the East Austin Art Tour."
Phan has been pursuing art professionally since her sophomore year in high school, a turning point in her life where she realized she wanted to teach and create art as a career. Big Medium's East Austin Studio Tour, or EAST for short, is described as is a free, annual, self-guided art event which provides opportunities for the public to meet the artists and artisans of Austin in their creative spaces.
"The most significant display I've ever had was my first show ever, the first time I had my piece in a gallery space," Phan said. "My art was displayed at the Contemporary Art Museum in downtown Austin. I had entered into a contest and was selected to be shown. I remember it was such an awesome experience where I realized, I knew I wanted to do this for a living." (you're right- this quotes doesnt match the transition above)
Phan's work is popular among other teacher's as well as students and artists. Fellow co-worker and engineering teacher Martin Wiedenmeier visited the setting where Phan's work was displayed, mentioning that her work always impresses him. Wiedenmeier's favorite piece of Phan's was her large textile quilt hanging from the ceiling, located at the front of the studio.
"I've seen her artwork before. It's always cool to see teachers in another setting," Wiedenmeier said. "I really liked the different colors she includes, the texture and how it was three dimensional coming off of the wall."
Wiedenmeier goes downtown every year to see most of the exhibits included at EAST. He enjoyed both the small studios and large ones. This year, he spent all day Saturday enjoying this year's featured art.
"Because my mom is in her 80's and she quilts a lot," Wiedenmeier said. "I see how quilting and the way the textiles reminds me of my mother. I see the sentimentality in her work just as others do."
Phan declared her work with fabric to be the most individual. She explained that the use of fabric was inspired by her mother, a local seamstress.
"I work with a lot of fiber, which are like fabrics." Phan said. "Sitting in front of a sewing machine, the thread. This is familiar. Paints are honestly the most intimidating to use for me."
Phan's mother was the one who taught her to sew, as well as actively providing her with the medium, or material in which an artist uses in their work. Phan enjoys to go into the process unprepared for what she may end up with once completed.
"The main reason why I keep getting to work with these materials is because they're free," Phan said. "As an artist and as a teacher, I can't just work with tons of paint. I have an unlimited supply to fabric and thread and it's a medium that not a lot of artists are working with."
Phan's work varied in display but was brought together by the repeating theme of using a teardrop shape in most of her work.
"It's such a familiar shape. There's a lot of interpretation in it," Phan said. "It fits really well together. It continues on, like a puzzle. I like to challenge myself. No one expects this stuff out of fabric."
Conservation comes with being an artist for Phan. The materials she uses not only personally relate to her upbringing, but others' as well. Allowing other people interact with her art is encouraged by the artist.
"A lot of it is not really planned out." Phan said. She called a textured conjunction of fabric hanging on a wall her version of a quilt. "These were really about the process of doing something over and over, not knowing what's going to happen and seeing where it takes me."
Her other works included stain glass jewelry and an eye-catching hanging block of plexiglass sandwiched between gold and white thread.
"I call it a drawing. I like it a lot because people come to it and tell me different interpretations of it." Phan said. "Some say it looks like smoke, clouds, etc. I think my favorite one was when someone said it was hair on the shower."
Phan revealed that herfavorite part about composing material art is experiencing what other people go through when viewing her work. She explained that holding judgement to what others feel about it is against her beliefs.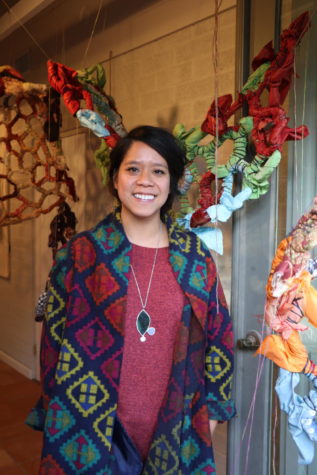 "I am not offended by anything, which many of my students know that about me. I was like, 'That's awesome!!" Phan said. "I like how people go to a lot of my artwork and take different things from it. Some of these fabrics remind them of their childhoods, seeing my work as domestic in some way."