Family Community Service class conducts project to encourage positivity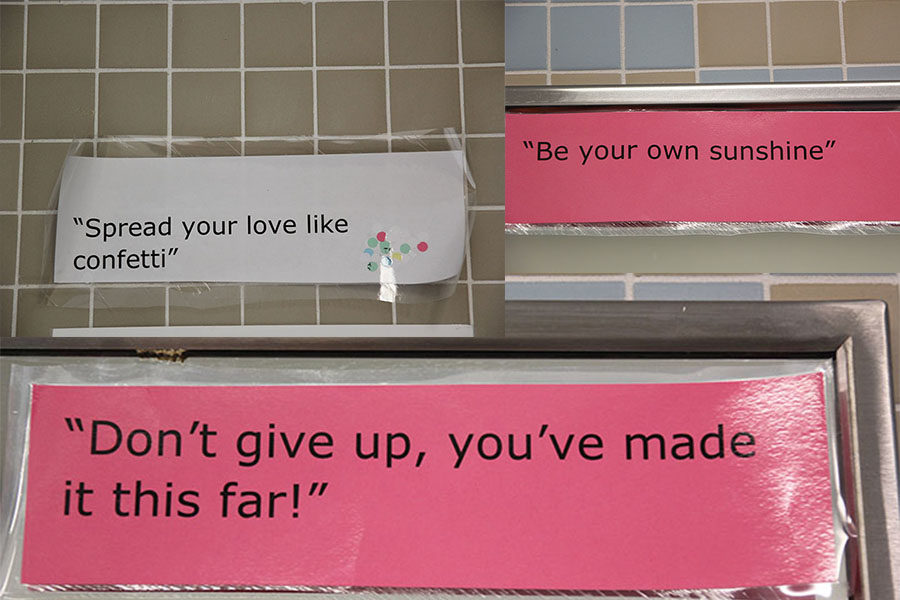 The Family Community Services class, recently organized a project to improve positivity in the environment of the school. Posters, with positive affirmations, were hung up in the girls bathrooms and above water fountains.
"This started with the idea of giving back to others and positive reinforcement and what that does for people," FCS teacher Stacey Pomerantz said. "The students wanted people to know that someone is always thinking about them and someone always cares about them. Conversation turned into ideas, ideas turned into action. Totally student driven."
The FCS class plans to put posters up in the boys bathroom as well as more hang out areas around the school, hoping to decrease the feeling of trying to be good enough. Posters were put on colored paper, decorated and laminated before being hung up.
"We wanted to make ours positive statements," senior Arielle Rodriguez said. "Things that will make your day better and persuade you to keep going because that is a big problem here. I am just really hoping that it changes people's outlook for the day. Maybe in general they will want to be more positive and they will realize, 'yeah, today has been rough but I should smile'. Just hoping that it makes them feel better."
Having only five students, FCS is a course that teaches students service learning, bringing all multi-discipline prerequisite classes into service done for the community. This is Pomerantz's first year teaching this class and she said the class is hoping to do more projects like this in the future.
"I think a really important part of the project, something that I would emphasize, is that the project is to improve the environment but it also to improve people's mental health," Rodriguez said. "A big theme in our Family Community Services class is having healthy mental health. Especially from my perspective, a big part of mine is making sure that in communities and the environment around you, people have a positive and healthy mental set."