Yearbook staff starts distribution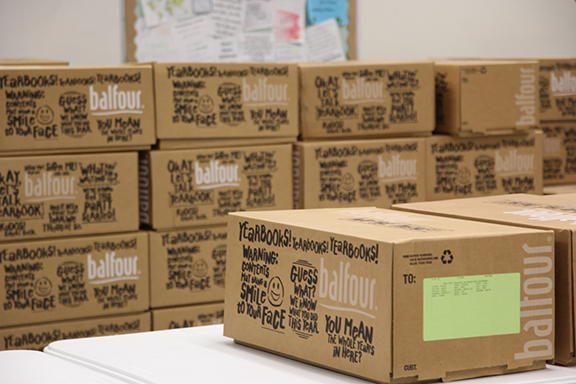 Hang on for a minute...we're trying to find some more stories you might like.
Students can now come pick up their yearbooks in room 1609. Distribution will be before school, during lunch, and after school until 4:15. The yearbook staff has been working on this year's yearbook, "Relentless," since last summer.
"It's definitely a lot of work and a lot of effort," senior Savannah Held said. "You have to be focused and have determination."
The yearbook staff tried out ten different themes this past summer at yearbook camp before sticking with this year's theme.
"This year's theme is 'Relentless,'" journalism teacher Lela Coker said. "Even though we didn't know what to expect during our first year in 6A, we knew that we, our student body, would continue to try to be the best in everything we do."
This year's theme is different from traditional themes used in previous years.
"A lot has changed in this year's book," Coker said. "It's about 36 pages bigger than last year and we have switched up the way the book is organized. Instead of the traditional student life, clubs and academics, people and sports sections we have switched to a chronological book so we have a summer, fall, winter and spring section."
And speaking of changes, VHS is trying a new event this year. Tomorrow, May 19, students can attend a yearbook signing party in the courtyard. Students should sign up for "Yearbook Signing" PIT in the PIT Portal if they want to come to this event.
"I'm really excited that we decided to have the signing party," senior and co-editor Kelli Steward said. "It's really cool to be able to show everyone these memories inside our books and sign with everyone, and it's going to be really fun."
If students haven't ordered a yearbook yet, they still have a chance to get one. They can go to balfour.com to place their order.