Robotics teams compete at Worlds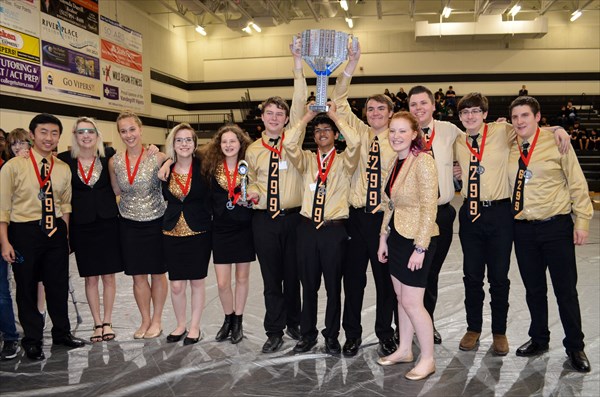 Hang on for a minute...we're trying to find some more stories you might like.
On Apr. 19th through 22nd, the ViperBots sent three teams to the robotics Worlds competition in Houston. Teams 6299 Quad X and 7161 Hydra both qualified for Worlds at the super-regional level and 4546 Snakebyte was selected to go from a lottery. At this championship, the teams had the opportunity to compete with other robotics teams from around the world.
"My favorite part of the competition was meeting all of the various high level teams from around the globe and seeing true feats of engineering I couldn't imagine," senior and software lead of team 6299 Quad X Joshua Johnson said.
The teams all took spots in the top 40, with 7161 Hydra receiving the highest at 17th place overall. However, 6299 Quad X walked away with the PTC Design Award for the third year in a row, making history.
"My favorite part was winning the design award," senior and project manager of 6299 Quad X Linnea May said. "We've been working really hard for the past three years to get that and we are now the only team in the world to have done it. It's really nice to see your hard work paying off."
In robotics competitions, the teams are required to build a robot that is able to perform certain tasks, or games. The teams spend months designing and building their robots.
"The biggest challenge is getting the robots to perform consistently," sponsor Irad Allen said. "In this competition they go through nine different rounds and the robots just get really beat up over the course of the tournament. Keeping everything up and running and consistent, making sure the robots are performing properly is really hard."
Another challenge, of course, is competing at such a high level.
"We had a really tough match this year," senior Linnea May said.  "The thing about this year's game was that all the teams could be pretty good, so you had to be really great. Going up against such great competition was stressful and challenging but also really fun."
However, although the robotics students walked away with plenty of awards, they also walked away with lifelong connections with people from around the world.
"One thing I took away from the experience was the strong connections I made with other robotics students from across the world which will definitely help me going into future. I was really able to bond with other like minded engineers and create connections that will last."