Senior cheerleaders advance to college squads
A total of three seniors were accepted into college level cheer teams of their choice. Tryouts were over the course of the past week and they recently received news of acceptance.
"It makes me feel very proud to have coached them and to have shaped where they are going," head cheer coach Brianna Roughton said. "It makes me very proud that they are pursuing what they love at the higher level."
Quin Apel made the co-ed team at UT, Tatum Apel all girls team at UT, and Madeline Coughlin made the Abilene Christian University team.
"I'm not surprised, because all three are very very talented, so are the other seniors on my team," Roughton said. "I wouldn't say that I expected this many of them to be cheering in college, but it's not surprising to me."
Roughton helped the girls prepare for the tryouts, gave them letters of recommendation, and gave them rooms to practice to help them feel prepared.
"When I tried out for UT cheer, I was very very nervous," Quin Apel said. "The tryout was very quick and they expect you to be on your A game the entire time. It was nerve wracking because we were numbered off and of course I was number one. Any time we had to show a skill I had to go first!"
After sending a video tryout to see if she qualified for an in person try out, all the students trying out are put in groups of four according to their number and during the two days they showcased each tumbling skill (running and standing), and rotated between stations of stunting with guys and learning the UT fight song.
"Once I got invited back to day two you were expected to know the fight song and perform it to the best of your ability in front of the judges to be evaluated," Quin Apel said. "On day two you had to show your tumbling skills again to show your consistency and stunt with the guys a few more times."
The second day of tryouts also consisted of an interview with the cheer coaches in order for them to get a feel for the candidates' personalities. The whole process was very selective and UT only took three rookies.
"I am so excited to be cheering on the Horns next year and cannot wait to live out my lifelong dream," Apel said. "My hard work paid off and it's amazing to say I got to be one third of the girls accepted into the program!"
Apel wasn't the only student to show her hard work getting into college cheer. With a similar tryout schedule, senior Madeline Coughlin made it into the ACU cheer team.
"Originally I had no interest in going to Abilene," Coughlin said. "My mom dragged me up to visit and I absolutely fell in love with the campus, the people were so nice and welcoming and the religious environment was exactly what I was looking for. Essentially, I just stepped on campus and knew that was where I wanted to be."
Coughlin stated that she chose ACU cheer because she wanted to be involved with the school. After spending four years at Vandegrift supporting and cheering on the school programs and upholding the name, she only wanted to continue that.
"I wasn't super nervous about it, I went up to Abilene before tryouts to meet the coach and the team," Coughlin said. "They were all super welcoming and I felt completely at home with them. When I went back for tryouts I was really just excited more than nervous."
Coughlin decided that if she didn't make the team she would pour her energy into studies, but hoped she would make it in.
"Cheer is more than a superficial activity, it's more than spray tans and fake eyelashes and pom poms," Coughlin said. "It's something that can provide confidence and strength while building lifelong friendships at the same time. I consider all of the girls in the cheer program and the coaches at Vandegrift my family. I don't know where I would be if my shy, 3rd grade self decided not to join cheer. Its truly made a difference in my life and I can't wait to spend the year with the '17-'18 team at ACU."
About the Writers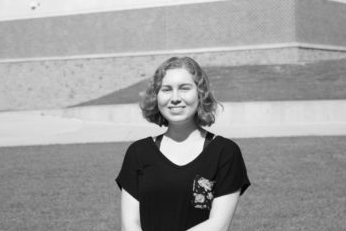 Caitlin McKeand, Co-Editor in Chief
Caitlin McKeand is a senior and this is her second year as a staff reporter for the Vandegrift Voice. In her free time, she enjoys reading, writing, archery, and dogs. Austinite born and raised. She is the Vice President of ASL Honor Society and works for the Riverplace Living Publications for the housing segment. One day she hopes to write a book.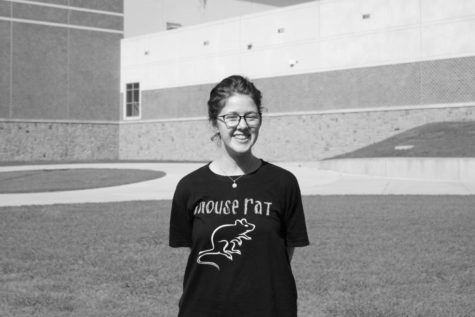 Hadley Hudson, Co-Editor in Chief
Hadley Hudson is a senior and this is her second year on the Vandegrift Voice staff. She is the Editor in Chief for the 2017-18 school year. In her spare time, she enjoys studying, reading, and participating in school clubs. She is a member of FCCLA, HOSA, and Red Cross. She is looking forward to another year in newspaper, and enjoys writing feature stories.