All around look at Robotics
This past weekend, the Wildcard Qualifier competition took place and two Viperbots teams look to advance to the Alamo Regional Championships on Feb. 23-Feb. 25.
"It's exciting to still be able to compete, and the whole team is ready to take on the challenges ahead of us," senior Morgan Nanez said. "I think my team is fortunate to get a second chance; our robot is ready to make a comeback!"
Nanez is a part of the Viperbots Ouroboros team. Also competing in the Wildcard Qualifier is the Viperbots Venom team.
"Advancing to the Wildcard event is an amazing opportunity for 6209 Venom," senior Kylie Degilio said. "We are incredibly grateful for the chance to compete in San Antonio this weekend with so many great teams."
Next weekend, the Alamo Regional Championship takes place, and 5 Viperbots teams will be competing at that competition.
"It's amazing, especially considering this team wasn't able to make it this far last year," junior William Bryan said. "It feels like we're redeeming the team."
Bryan is a part of the Viperbots Snakebyte team. Along with the Snakebyte team competing is the QuadX team.
"Unlike years past, we only had one chance to qualify for Regionals," senior Linnea May said. "I'm really proud of the team for advancing and for doing well at a very tough competition."
Before advancing to the Alamo Regional Championship or to the Wildcard Qualifier, all teams competed in the Austin Cup- Championship 1 v Championship 2 and the Championship 2 competition. At these competitions, awards are won based on how well you do. In the Austin Cup- Championship 1 v Championship 2, Viperbots QuadX won the Winning Alliance.
"I'm very proud of our alliance for winning," May said. "We went up against some pretty amazing teams, including another Viperbot team (6210 Stryke)."
In Championship 2, QuadX not only won the Winning Alliance, but also won the Inspire Award.
"As a team, we put a ridiculous amount of work into our robot and the competition," May said. "Therefore, winning the Inspire Award was a really gratifying way to acknowledge all our hard work."
Also in Championship 2, Viperbots Snakebyte was one of two teams that got the Finals Alliance.
"Considering we started off this season pretty close to last, it was great being able to see our efforts," Bryan said. "They followed such heavy losses and were rewarded through high placement at that competition."
Viperbots Snakebyte was the finalist team for the Connect Award in Championship 2.
"It's a great feeling, Bryan said. "Knowing that something we're trying to do with our outreach is actually connecting with the community and being recognized, rather than having our efforts be seen as just a superficial aspect of the team."
The season started back in September and they've been working hard in order to get where they are now.
"We work really hard to have the best product we can, spending hours after school each day and on the weekends in the robot room," Degilio said. "As a team, we are all really good friends and we hold each other accountable for all the work we need to get done. This sense of 'family' gives us an incredibly fun environment to work in and great motivation to keep going."
As the teams build their robot, they make sure their robot is ready to go for competitions. However, along the way, the team may need to change it in order to be successful come competition day.
"It's all circumstantial really," Bryan said. "Having to fix a substantial problem the day of the competition can really work your stress as it feels like your success could be thrown away just because of some bad luck, but having the same problem a month before that same competition presents itself more as an opportunity to strengthen the reliability and performance of our robot."
Marketing is a big part of Viperbots, and it plays a crucial part among all of the teams.
"My job at the qualifier is to basically be a sub-in," Nanez said. "I know how to do everyone's role whether it is pit-judging or scouting other teams. If something goes wrong, I can go help and try to fix it as soon as possible."
As it gets closer to the Alamo Regional Championship, Snakebyte and QuadX plan to have a great competition along with a great placement.
"I'm in charge of scouting out other teams to see who would work well with us in an alliance, and I take it so seriously that my teammates tease me about my love of data," May said. "I'll be living up to their jokes by improving our data analysis so we have a clear idea of the competition."
About the Writer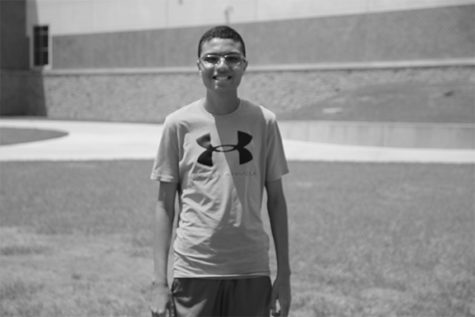 Justin Jalomo, Sports Reporter
Justin Jalomo is a senior and this is his third year on the newspaper staff. He is involved in band and the A/V department at Vandegrift. During his free time he likes to watch TV, play video games and play sports.