All about the AD team
Hang on for a minute...we're trying to find some more stories you might like.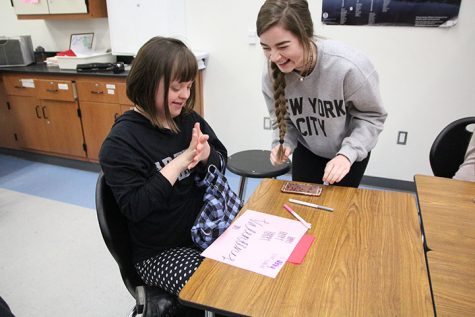 Katherine Schulte
The AD team will meet tomorrow in Ms.Connors classroom during PIT.  AD stands for accepting differences. The AD team was established in 2013 by sophomore Noah Dennis.
"Back in middle school around 10 students and I would sit with the ICAP children during lunch and make sure they felt included," sophomore Noah Dennis said "Today instead of just sitting with the ICAP children during lunch we have grown the idea of including everyone into the AD team, we currently have around 70 members and plan to keep growing."
The AD team was started at Canyon Ridge Middle School, and held meetings on Monday mornings.  
"I love seeing tons people come together for a common goal," sophomore Zoe Collier said "AD team has grown so much since 2013, watching the program expand has been a great
experience and privilege."
AD team meets every Friday during PIT to discuss new ways to include others, play team building games, volunteer and more.
"Overall my favorite part in leading the AD Team would have to be seeing the students with special needs being included and having fun," Dennis said. "It has been an unforgettable experience leading and building such an awesome team."
Seventy or more students and buddies attend the PIT meetings weekly. There are currently more than 130 students signed up for the AD Remind 101.
"Throughout my experience in AD team this year I have been able to spend time with a variety of people and participate in many events, such as Relay for Life," sophomore Emma Marshall said. "Joining AD Team has helped me to become a better person and I hope to carry out the skills I have learned in AD Team after high school."
Students and teachers are currently working together to create an AD Team at Four Points Middle School.
"The idea of spreading AD Team and what we believe in to Four Points is a great idea," sophomore Mary Hartman said. "Knowing what great effect AD has had on me, I think FPMS would really benefit and enjoy having their own AD team."  
The next AD Team meeting is this Friday, January 3rd in Ms.Connors classroom during pit.
"Every Friday I look forward to being able to connect with people that have disabilities and be a friend for them," sophomore Olivia Breeden said."I joined AD Team in my freshman year and continue to be part of the club until my senior year."
The AD Team's slogan is "everyone deserves a best friend," Noah Dennis plans to continue improving the AD team and hopes to keep making differences throughout the school and community.
"I believe AD Team has one of the best support systems in the school," sophomore Mary Hartman said. "AD Team helped me make many new friends.There is so much diversity in the AD team and yet we are still such good friends."