Drumline wins their first competition of the season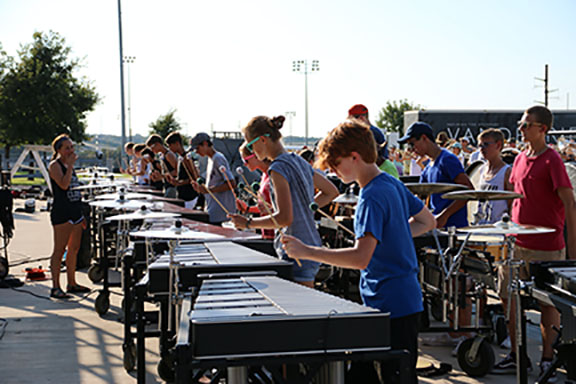 The Vandegrift Drumline won the Dripping Spring drumline competition, their first competition of the season, this past Saturday on Sept.17. The drumline went to compete against several bands in the central Texas area in three different rounds and their performance involved performing their part of the marching show, En Pointe.
"In this drumline competition, we played our marching band show without the rest of the band," Stevens said. "We prepared by practicing with the band plus some extra hours outside of marching rehearsal. The Vandegrift drumline is better than other drumlines because we work harder, practice more, and care more about what we do than any other school."
The drumline received their music in May and were able to practice on their own during the summer before meeting up together in July.
"The next time we got together was the last week of July when we had drum camp and that was when the battery would split off and work the whole time and the pit would split off and at the end of the day we'd get together and rehearse so it was really just a week of rehearsal to get us ready to be strong enough to be able to support the band next week," junior Lauren Hallonquist said.
The drumline has advanced to finals in competitions every year and this year they won awards for Outstanding Snares, Tenors and Basses.
"There's a long history of success from the drumline and the band that motivates us and everybody at least makes an effort to make our performances better," senior Josh Chmelik said.
One of the students attributes part of their success to their new percussion director.
"In part it's definitely our staff," Hallonquist said. "Our new percussion director Mr. Hobbes is doing a really great job with us. I wouldn't say that our drumline has some special element that no other drumline could have or has the ability to reach. It's just that we happen to be fortunate enough to live in this environment where we have a great staff and we go to a great school."
The entire marching band is preparing to perform their entire show at the Band of America Austin Regional tomorrow.
"I think the band will be very competitive this Fall in both Bands of America and UIL competitions," band director Ms. Grote said. "While we never know how we will place at contests, I feel very confident that our students are working their hardest to perform at the highest levels."