University representatives visit with upperclassmen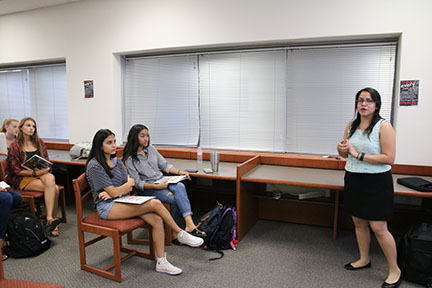 College admissions representatives met with students yesterday to give information about their colleges and universities and answer any questions students may have. These visits are geared toward sophomores through seniors and are usually in the college and career center, or CCC, during PIT.
"I think it's advantageous for students, even if they haven't heard of the school to go and sign up to go and listen and hear what other schools have to offer," college and career counselor Sarah Spradling said. "It's to broaden your knowledge, to understand what schools have to offer, to understand what you like about school."
Students have many reasons for attending these visits on our campus.
"They offer you a lot of information that you need to know before going there," junior Noora Qassim said. "It's better to know it before you go so you have an idea of what to expect when you go."
UT Dallas admissions officer Daisy Peña explained how students could stand out during the application process.
"Students that stand out show that they pushed themselves academically," Peña said. "Even if you had a bad semester your freshman year, you've shown growth."
The Texas State college visit on Sept. 6 gave students tips on what colleges are looking for in applicants and what's most important on the application.
"Work hard on your essays," Texas State University admissions officer Vyasar Ganesan said. "When it comes to your resume section like things you did over the summer, extracurriculars, things you're involved in, nothing is too small."
Students can sign up and see dates for visits under the "Colleges" tab in Naviance, which can be accessed from the school website.
"I think if there's a school you're absolutely interested in you need to carve out time to go to find out more about them," Spradling said. "Seniors should be a little bit more focused in choosing which colleges to visit."