Medical Interventions and Engineering comes together for Cancer treatment project
Hang on for a minute...we're trying to find some more stories you might like.
The medical interventions class collaborated with the engineering classes to design a nanoscale treatment for a cancer of their choice. The two classes, taught by John Schocken and Anne Goshorn, came together last week for the assignment.
"It's very difficult to pick and choose your battles when it comes to cancer treatment," junior Grace Massamillo said. "So many of them do not discriminate between cancerous and healthy cells and therefore can be detrimental to the body."
For the project, the med students acted t as clients for the engineering students, who created a nanorobot or a nanoparticle based off of the med students needs. A nanorobot is a small machine that is able to perform specific acts meticulously at nanoscale dimensions. The nanorobot moves nanoparticles, or particles no larger than 100 nanometers. Medical interventions pitched their designs for the nanorobots to engineering students that will create them.
"It's a lot of complex and convoluted information," Massamillo said. "But it's very interesting and fun to learn about and try to conceive at our level."
The students are worked in different groups and presented the design to the engineering students on March 22. A 3D printer will be used by med students for their presentation to the class with the help of Mr. Weidenmier. Students in Goshorn's Engineering Design & Development class have taken three years of engineering courses learning how to create 3D models of their ideas and apply engineering principles to solve a problem.
Massamillo's group chose to try to tackle a very aggressive and malignant type of brain tumor known as a primary grade IV astrocytoma. After the surgical procedure done to remove the bulk of the tumor, the group would theoretically use the nanoparticle they designed to treat any metastasized cells and remainders of the tumor.
Schocken first saw the idea for the project at a teacher training and decided to ask Goshorn about doing it with her classes. According to Schocken, the project puts engineers in the real-world position of needing to make something specific to solve the needs of a client. The assignment give the med students a chance to teach biology to the engineers and the engineers can inform the med students about their process, limitations, and suggestions.
"Seeing this project come to life is exciting, and I feel it is working, overall, very well," Schocken said. "It requires the students to work together and think critically about cancer treatments and detection. They get to see that the battle against cancer is one that requires teamwork, knowledge, creativity, and is both challenging and rewarding."

About the Writer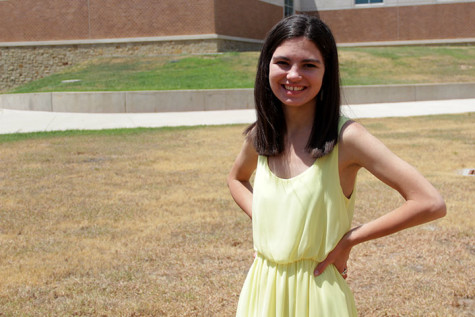 Emma-Rose Floyd, News Editor
Emma-Rose is a senior at Vandegrift. She has been a part of newspaper since her sophomore year. Positions she has held include Social Media Manager, and News Editor, a position she has had for two years. Emma-Rose  is also an active member of Key Club, dances in her free time and is a member of the UIL journalism team. She hopes to major in communications in college and become a full-time journalist.