Broadcast department works to create professional-level content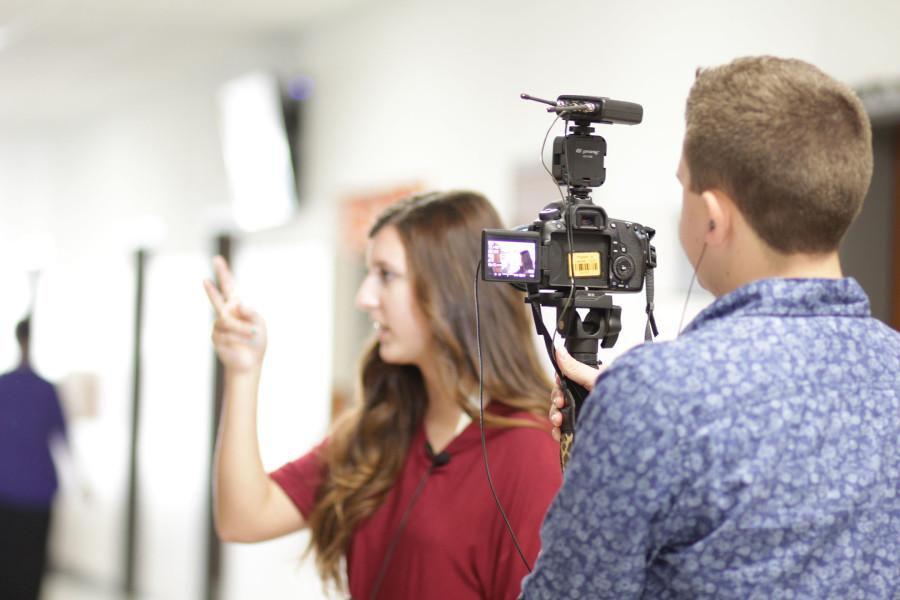 This year, broadcast is focusing on ensuring that their production quality is professional. The broadcast program is composed of two classes, one of which works on the basic announcements while the other focuses on news segments. In addition to this, the AV/Production classes are working on increasing the production value of all the videos the broadcast classes create. The announcements the classes generate will come about twice a week during PIT.
"I would like the broadcast program to achieve a level of professional production and high-value content that is superior to anything we've done in the past," broadcast supervisor Michael Ellis said. "I'd love for every student to walk out of my class with an interest in some area of broadcast production that they can explore further in the future."
Broadcast students divide into multiple small groups every day to meet their various deadlines. For example, one group will work on a sports segment and another group will edit footage from teacher interviews conducted previously. Students will cycle through different roles every week; some weeks they will be an anchor and others they will be a teleprompter.
"I originally took audio and video production because I'm interested in creating videos and film, but now I've been in broadcast ever since,"senior broadcast student Zach Greenquist said. "This year we want to make our announcements more like a professional newcast, so it's accurate to what you would see in the real world."
This year the program has gained a lot of new members. Previously, the broadcast class was in one period, but now they must be split into two because of the larger number of students. This year they also changed the entire layout of the studio and production room, added different ways of communication and changed the camera placement.
"I'm excited to have Mr. Ellis as our teacher this year," sophomore broadcast student Jake Painter said. "He definitely knows what he's doing, so it's going to be a really good year of production."
In broadcast, students learn how to use audio and video equipment (such as different types of cameras and green screens). They also get to learn to be comfortable in front of a camera and/or microphone while learning more about the process of creating a broadcast. The students are expected to participate to the best of their ability, but they get excessive freedom in the class for independent learning.
"I get to help develop student's ideas and creative dreams into something tangible that that can be seen, shared, and served as a source of pride for them," Ellis said.
If any student is interested in joining Broadcast or AV production, go talk to Ellis sometime in room 1616. Students can sign up for the class for future semesters or end up as an actor, extra or crew in one of the broadcast productions.
About the Writer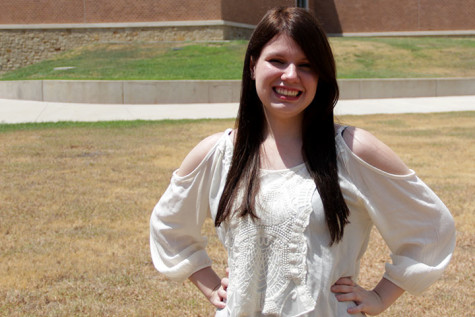 Alaina Galasso, Editor in Chief
Alaina Galasso is a senior at Vandegrift and this is her third year on the newspaper staff. She competes in journalism for Academic UIL and was previously sixth in district for Feature Writing, fourth in district for News Writing, first in district and region for Editorial Writing and second in state for Editorial Writing. She also works as a professional theatre technician outside of school and is an active member of the school's theatre department. She is currently the department's head stage manager but has participated in lighting, run crew and sound since she was a freshman. For her work in theatre she is a 9 star International Thespian and current secretary of Thespian Troupe 7613. She has also been involved in Student Council, the HCEF Inventeam, National Honor Society, Vision Dance Company, AVID and Latin Club throughout high school. She hopes to attend a top university up north and plans on majoring in Theatre Design, Production, and Management with a minor in Creative Writing.