Band wins national achievement in recording competition
Hang on for a minute...we're trying to find some more stories you might like.
With only seven years under it's belt, Vandegrift has become what many much more established schools can only dream of being. This year one of the school's most notable programs, wind ensemble, won yet another award—at the national level and in class 6A as opposed to 5A– a class higher than usual. While it is fairly common for band to place high in competitions (having won state two years ago, for example), an accomplishment this high is a first.
The Mark of Excellence Wind Band National Recording Competition is entered through submitting recordings of several pieces from the previous year and the results were announced to the band on Sept. 21.
"I didn't expect it," junior Mitchell Fisher said. "It was pretty competitive– it's not just Texas, it's the entire country. It's a pretty big thing for band."
Mark of Excellence also recognized several soloist pieces including senior Max Askari on English Horn, Mitchell Fisher on Euphonium, Taylor Gaskins on Clarinet, Nicole Jaynes on Oboe and Arvind Sundar on Piccolo.
"It's kind of unreal being recognized so personally on a national level," Askari said. "We've won things as a band before, as Vandegrift, but being personally recognized was really great."
But the competitions don't stop there. Band will compete in different arrangements nearly every Saturday through October. In fact, this past Saturday was the first round of Bands of America.
"I mean we can play harder music [but] you can never really perfect a piece," Askari said. "Something can always be better."
Band took Top Music Score overall and placed fith in pre-lims, qualified for Regional Finals and placed fith in every classification.
"What we've done over the past several years has paid off," senior and percussionist Michael Dang said. "To see that standard of excellent that we've met is, I think, impressive."

About the Writer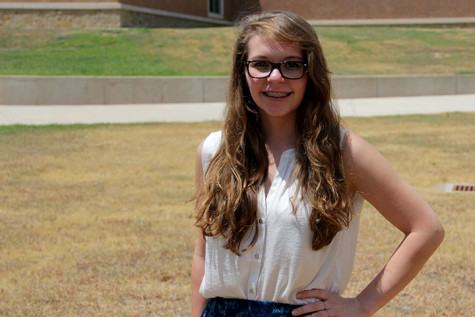 Laura Figi, Web Editor in Chief
Laura Figi (though commonly referred to just as "Figi") is the Web Editor-in-Chief for the 2015-2016 year. She enjoys writing and competing in UIL for the journalism team. Laura is Historian of the French National Honors Society, and a member of French Club and Philosophy Club. Outside of school Laura enjoys playing ukulele, singing, taking pictures of bands and downtown Austin, and playing video games. Laura plans to go to college in-state and study newspaper/broadcast journalism, photography and French.