Las Vegas is coming to Vandy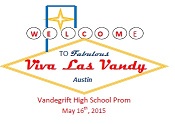 As the end of the year approaches, with high tensions, end of course exams and challenging projects just around the corner, there are a few fun things set to take place in the coming weeks to relieve the stress, such as prom. The "Viva Las Vandy" themed dance is set to take place on May 16 at the Bob Bullock Museum from 8 p.m. to midnight.
"I can't wait to make treasured memories and have the best time of my life," junior Alyssa Castrillon said.
Tickets for the event are being sold online at the school webstore for $65 until 4 p.m. on May 15. No tickets will be sold at the door. To receive your ticket, take your printed reciept to the front office.
"I can't wait to just enjoy a night with my friends," junior Ariana Engles said. "Prom is like the official transition from junior to senior, and from senior to college. It marks ends and beginnings."
If you are planning on taking a student from another campus to the event, there are guest letters on the front page of the school website with instructions on how to do so. The dance is open to all juniors and seniors.