Live like Lutz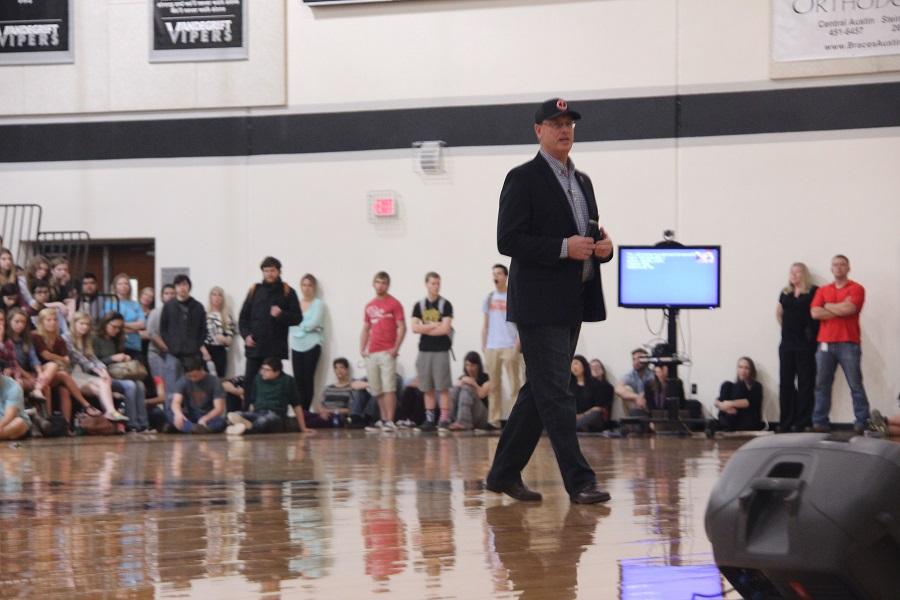 Almost half of all drivers who were killed in accidents test positive for drugs and alcohol in their system and every two minutes a person is injured in a drunk driving crash. Out of all of these numbers, teen alcohol use in particular kills 4,7000 people each year, more than all illegal drugs combined, according to MADD.
Yesterday a special guest speaker, Mike Lutzenkirchen, spoke to the student body during PIT. Lutzenkirchen's son was killed this past June in a drunk driving accident so Lutzenkirchen is currently speaking to students on the dangers of drinking and driving.
"If kids would start making better decisions and as friends look out for each other when they are tempted to make bad decisions then we can help each out more," Lutzenkirchen said. "It's about being a better friend, it's about being a better teammate."
Lutzenkirchen's son, Philip, died in a tragic single-vehicle accident outside LaGrange, Ga. on June 29. Both Philip and the driver were intoxicated and neither wore a seatbelt. Prior to the accident Philip graduated from Lassiter High School, attended Auburn University and signed with the St. Louis Rams to achieve his goal of becoming an NFL football player. He was looked up to by many as one of the top tight end prospects in the country, amassing over 1,000 yards receiving his senior year at Auburn.
"I hope the students see that Philip Lutzenkirchen was just like them," Athletic Coordinator Drew Sanders said. "Good kid, scholar athlete, over achiever and made a bad decision and it cost him."
Lutzenkirchen created the Lutzie 43 Foundation to help develop the character of young athletes and their coaches. Their slogan is: "live like Lutz, love like Lutz and learn from Lutz." To find more information check out the organization's website, http://www.lutzie43.org/home.html or send an email to [email protected]
"I think it is important to constantly remind students of the tragic loss of life drinking and driving can cause, as well as to remind them that a drunk driver can affect any of us, our families, and friends, at any time," Principal Charlie Little said.
Sanders and the athletic boosters donated the resources necessary to bring Lutzenkirchen in to speak publicly to the sophomores, juniors and seniors. The freshman watched a live stream from their home PIT.  Little wanted to stress the importance of not drinking and driving as prom and graduation are approaching. Although Shattered Dreams will return next year, the school wanted to make sure the students were still inspired to make good decisions.
"It was a quiet group of kids, very respectful," Lutzenkirchen said. "You can tell they are quality kids but if we help ourselves individually and each other more then there will be less and less of them falling into temptations."
About the Writer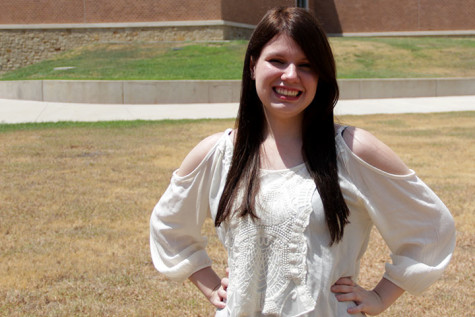 Alaina Galasso, Editor in Chief
Alaina Galasso is a senior at Vandegrift and this is her third year on the newspaper staff. She competes in journalism for Academic UIL and was previously sixth in district for Feature Writing, fourth in district for News Writing, first in district and region for Editorial Writing and second in state for Editorial Writing. She also works as a professional theatre technician outside of school and is an active member of the school's theatre department. She is currently the department's head stage manager but has participated in lighting, run crew and sound since she was a freshman. For her work in theatre she is a 9 star International Thespian and current secretary of Thespian Troupe 7613. She has also been involved in Student Council, the HCEF Inventeam, National Honor Society, Vision Dance Company, AVID and Latin Club throughout high school. She hopes to attend a top university up north and plans on majoring in Theatre Design, Production, and Management with a minor in Creative Writing.