Boys and girls golf starting up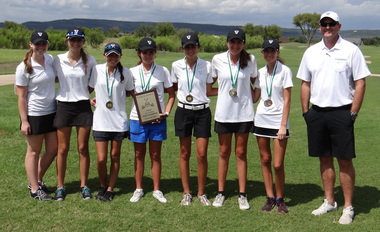 Football, volleyball, and cross country are not the only sports that have started this fall- boys and girls golf has begun and both teams have many goals for their season this year.
"This season the boys and girls golf team are hoping to win district and state," senior boys golf captain Skylar Young said. "Last year the boys golf team won state and not just the boys, but the girls as well, are so determined to win the state title this year."
Last year boys and girls golf won district and the boys went on to advance to state, where they won. Even though the Viper golf team won state last year, they still have a significant amount of competition to defeat to achieve their goal of going to state again this season.
"Our biggest competitors are definitely Aledo, Alamo Heights, and Highland Park," senior girls golf captain Erin Fahey said. "If we defeat them and work hard, we are definitely in a good position to do very well this year and even have the opportunity to not only win district, but state."
The golf team has been well underway with their season and have been practicing everyday and participating in tournaments to get ready for the district season.
"The girls golf team has already competed in one tournament," Fahey said. "We won it and so that gives us a lot of confidence as we go into harder upcoming tournaments."
The boys golf team had a tournament a few weeks ago in the Fall State Preview.
"We got second which is good but there is always room for improvement and we have to work really hard if we want to get to state again," Young said.
The Viper golf team has been working hard and is ready to achieve their goals of winning state, and district again.
"We are so excited for this season," Fahey said. "We all hope to do well this year and finish off the season with a state win for both the boys and the girls."