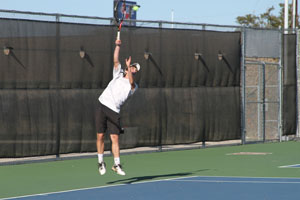 Josh Minor, John Jacob and Dillon Launius placed in the top three at the regional tournament earlier this week, advancing to the state tournament on May 30.  
"I was nervous in the last couple points before I won the match," junior Launius said. "I was really happy, now I am just playing tennis everyday to prepare for state."
Sophomores John Jacob and Josh Minor will compete in the doubles tournament and junior Dillon Launius is set to play in the singles tournament at the World of Tennis in late May.
"I was pretty excited and proud of myself when I found out we moved on," Jacob said. "We are practicing a lot, I hope to get a few wins and get a medal."
Freshman Shwetha Prabaker placed in fourth at the regional level, and although she will not move onto the state tournament, Coach Larremore, as well as the rest of the team, is very proud of her success.
"She is now one of the top 16 girls singles players in the state," Coach Larremore said.