College Corner: Admission 101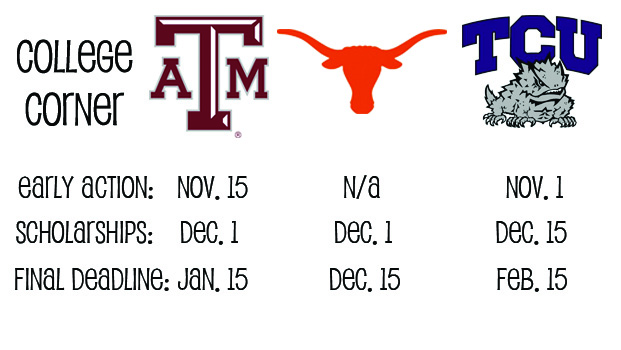 Danielle Docherty, Sports Editor and Opinions Editor
November 18, 2011
Early action, early decision, single-choice early action, rolling admission, automatic admission, regular admission; all of these words can be so confusing and without fully understand what they mean, you could end up getting yourself into something you didn't want to get into.
According to College Board, applying early to the college(s) of your choice sometimes gives you a better chance of acceptance than you would through the regular admissions process. The other advantage to early action or early decision is that you hear back from the college much earlier (usually December or January).
It is important to understand these early admission terms before turning anything into colleges. So what do these words really mean?  Early action and early decision are the most common of the three. The most important thing to understand about early decision plan is that it is binding, as defined by College Board. This means that if the college accepts you and offers sufficient financial aid, you must attend this college. You may apply to other colleges within the regular admission process but if you are accepted to your first-choice early decision college, you must withdraw all other applications.
"You have less of a wait when submit early," guidance counselor Ms. Brooks said. "Early decision is a binding contract and is something that should be discussed with parents and counselor before acted upon."
Early action plans are similar to early decision but they are not binding. If you are accepted, you can choose to wait until spring to commit to the college or commit immediately. This plan allows you to apply early action to other college unlike early decision.
"Counselors recommend that students submit their applications by the end of October and that way they can relax and enjoy their holiday," Brooks said. "The earlier you apply, usually the more quickly you will receive a reply."
Single-choice early action is new option but only offered by several colleges. It works a lot like the early action plan except you cannot apply early to any other colleges. You can apply under the regular admission plan but do not have to give your decision to the college until the regular decision deadline.
                Now that we understand a little more about early applying, it is crucial to understand the actual admissions process according to College Board. The most common process is regular decision. This means you submit the application to the college by the specified date and receive an admissions decision within the period stated by the college itself. You are able to apply to other colleges and universities without restriction.  Rolling admission means you are reviewed once your application on file is complete. You are notified with a decision usually within a few weeks of applying. Rolling admissions typically means the college accepts applications for as long as spaces are available. So if you apply sooner, you may have a better chance of being accepted.
"If you miss the early action deadline, you get on the ball and get everything in by regular decision deadline," Brooks said.
If you are wondering what the admissions plans are of the college(s) of your choice, visit the admissions section of the college's website. If you are confused or have further questions, contact your college admissions representative or high school guidance counselor.
"If you have questions, come speak to your counselor or get in touch with your college reps [representatives]. They come and visit Vandegrift so it is a great time to meet and ask them questions. They are the first people who look at your applications, so leaving a good impression on them in important," Brooks said.