Cheer Members to Participate in Macy's Parade
Danielle Docherty, Sports Editor
November 19, 2010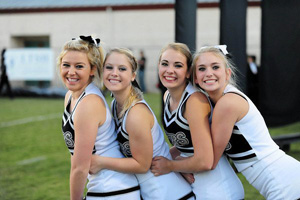 Varsity cheerleaders Hannah Simpson, Courtney Kaczmarek, Annie Walls and Savannah Pace are off to New York on Saturday, November 20th for six days to participate in the 84th annual Macy's Thanksgiving Day Parade and experience life in the Big Apple.
   This summer, the Viper cheerleaders attended a National Cheer Association camp at Southern Methodist University where, because of their captain and officer positions, they were offered the opportunity to participate in this honorable event along with hundreds of other cheer captains and officers.
   Each of the girls had to raise over $1700 dollars by selling discount cards and asking for donations fromfamily members. This paid for their participation in the Macy's Day Parade, the uniform and NCA parade wear, six-night accommodations at the Hilton New York, all meals, a 7-Day New York City Subway metro pass, a Statue of Liberty Harbor Cruise, admission to the Empire State Building, tickets to a Broadway Show, Radio City Music Hall Christmas Spectacular tickets featuring the Rockettes and a dance class with one of New York's most noted choreographers and dancers.
   "I am look forward to just about everything. Just being in New York is going to be so exciting; performing in front of millions, seeing the Statue of Liberty, going to the Broadway show and seeing the Empire State Building," social officer Annie Walls said.
   The four girls will be performing a routine in front of millions that they have taught themselves from a DVD.
   "I learned the routine this weekend but I'm going to practice every day this week and hopefully that will prepare me even more. We also have a few practices in New York so that will help," cheer captain Hannah Simpson said.
   The Macy's Thanksgiving Day Parade, which has over three million attendees each year, airs on NBC and is seen by over 44 million people.
   "I'm nervous that I may mess up on live TV and the people at the parade but I am very excited. It is such an amazing opportunity and I am really lucky to get the chance to go," Annie Walls said.
   We wish the cheerleaders good luck as they represent Vandegrift High School in front of tens of millions on Thanksgiving Day.
 Juniors Savannah Pace, Annie Walls, Hannah Simpson and Courtney Kaczmarek will participate in the 84th Annual Macy's Thanksgiving Day Parade.