Global, inspiring and compassionate. 
Those are the words that members of Operation Smile use to describe their organization. 
Operation Smile is a global organization that helps assist children in undeveloped and developing countries with lifesaving medical cleft palate surgeries. Led by seniors Bryan Dam and Riya Yarlagadda, and sponsored by Spanish teacher, Joe Haus, Operation smile competes local, regional, and international tasks to help provide medical interventions for children.  
"Since 2019, we've been able to provide 10 life changing surgeries." said vice president Yarlagadda. "I love that everything we do can have an immediate impact and change lives."
A cleft palate or cleft lip is a rare medical condition where infants are born with a split between their lips and nose. The condition is painful and makes many life tasks difficult, which is why students fight to save children born with cleft lip.
"Children with this condition oftentimes are not able to live very happy lives, they often struggle with malnutrition and it's always wonderful to be able to provide support," said Yarlagadda. 
On campus, Operation Smile has provided surgeries globally, from Vietnam to South America.Globally, Operation Smile has over 6,000 volunteer surgeons and medical professionals, making it the largest medical nonprofit in the world. 
"At Vandegrift, Operation Smile is such an amazing community where we work to uplift each other and the world." said next year's  President Sevil Oksulzer. 
Every club meeting, the club watches videos of children who have been impacted by this life changing medical care. This activity inspires students to want to do more to help. 
"I love being a part of something bigger than myself." said Oksulzer. "I love helping these kids because they deserve better and I love that we're able to help and provide them a better future."
To help these children, club members can also participate in a variety of crafts. Not only do they try to make children affected by cleft lip smile, but they also attempt to make their own school smile. 
"This year, we made little post-it notes and people wrote down what made them smile," said Yarlagadda. "We stuck up the notes near Profe Haus' classroom and students loved them. Our goal is to make everyone smile."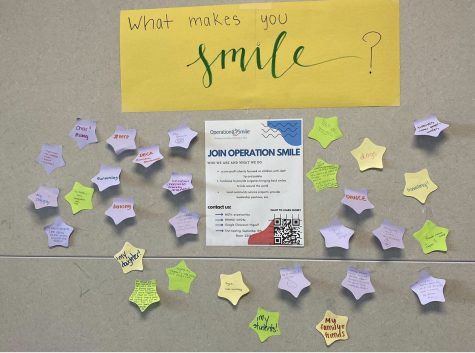 Additionally, members made cards, sock puppets, and friendship bracelets for students throughout the year, all in an effort to cheer up children with cleft palates. While cleft lip and palate is a serious, painful, and life altering condition, Operation Smile works tirelessly to aid these children. 
"I think that what we have is really unique." said Oksulzer. "It is such an inspiring and compassionate community on campus and I think that everyone should join, whether you're interested in a career in medicine or just want to help."