National English Honor Society
With diverse material and varying approaches as to how language & literature can benefit students for their future, NEHS caters to many
Though National English Honor Society's (NEHS) inaugural year was only last year, the club has earned its namesake. With over 150 members, NEHS aids a plethora of students through informative instruction and engaging discussion surrounding literature. 
A national honor society, there are certain requirements that members must meet that can be found on NEHS's website. In addition, new students who are interested may apply to join in May for next school year. Every second Tuesday of each month, NEHS holds meetings where they discuss service opportunities, book recommendations, information surrounding the writing competition students have the option of participating in this year and, of course, any new information.
"You need to complete two service tasks per semester, in order to stay within good standing with the club," co-president Kate Denning said.
Some service task options include tutoring fellow students in English and participating in a writing competition where students have several prompts to pick from to write an original piece. Leaders of the club will then judge each piece and choose the top three. 
"It's something fun and engaging and different than a lot of other clubs do," member Suruchi Vu said. "There's more competitive contests like with UIL but this is more friendly."
Understandingly, English as a subject may not appeal to every student, leaving them hesitant about the activities of the club.
"We're striving to use English as a sort of foundational base for all sorts of different disciplines because the foundation of really any discipline is communication," vice president Karis Hu said.
Any kind of writing skills will benefit communication skills in other areas such as STEM. 
"For example, in research: Yes, research is heavily science based, heavily data, numbers, calculations; but the way that that research is promoted, the way that research actually becomes research is through a written research report," Hu said.
By providing more scientific texts, Hu explains that members can become better versed in how to present their findings in an unbiased, engaging and informative manner.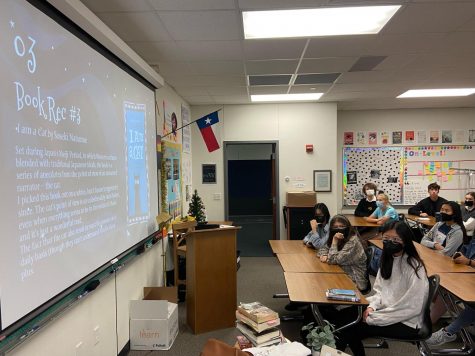 "Our main goal is to just really spread English not only as a form of communication but as an art form," Hu said.
In addition to these diverse, applicable methods to improving students' writing in all fields, NEHS aids those typical, respected, English nerds in anything and everything book related through book recommendations and introducing new authors. 
"If I'm not into reading for a little bit but then I talk to someone who recommends a really good book enthusiastically, it gets me wanting to learn more about the book so I then go into it and I get back into reading again," Vu said. "So, it doesn't even have to be about reading but exposing yourself to different groups of people and seeing how reading impacts them."
Both NEHS members and leaders contribute in book recommendations, fueling plenty of literary options for anyone involved. 
"You're surrounded by these people who also love English who are also passionate about increasing their knowledge of the subject so it's kind've one of those organizations where you're constantly pushing each other to do better," Denning said.
In its popularity and consistent contribution to the community, NEHS often ties in with other VHS national honor societies including organizations like Key Club.
Leader and social media contributor Sydnee Stendara said that anyone who wants to have a group to discuss just about anything with, especially their likes and dislikes surrounding books, would make a great contribution to the organization.
Unlike typical AP oriented English classes where analysis, grammar, and finding what a specific word means in a certain context is critical to the course, EHS provides a more relaxed alternative for students to have fun outside of those core classes.
 "It just feels like a tiny little escape from all the worries about school and everything," Vu said.