Putting pen to paper
Writer's guild club is home to the writers of VHS
With just a lined piece of paper or a blank google doc, members prepare to hear the latest information about how they can improve their own writing skills whilst they chat with friends.
Writer's Guild Club is an opportunity to be taught information about writing outside core classes and electives. Each week, members learn about a new topic surrounding writing such as writing mechanics, world building, creating characters, dialogue, tropes, and participate in an optional share day where they can explain their own ideas and stories they're individually working on. 
"Next month is actually national novel writing month so we're going to spend November working on how to start a story," vice president Molly Chaffee said. "How to keep up with longer stories and things such as that."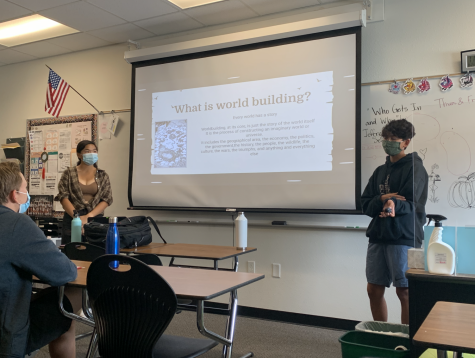 In addition to a week's topic of interest, members are given multiple writing prompts to choose from where they can start to mull creatively about different scenarios, then chat to fellow friends and writers about favorite books and the quality of different authors. 
"Everytime I'm feeling stressed out, I'll be like, 'oh, I have writer's guild today,' and then it just instantly makes my day better because it's always been a positive experience during high school," president Wesley Alabastro said. 
Starting off with basic information for the first couple months like writing mechanics then moving to more complex topics such as character development or the presence of religion in a fictional world, the club caters to a wide variety.
"If you're not a writer in particular but love storytelling in different ways, whether it be through dungeons and dragons or other forms of storytelling, this is a good club for you because we cover a lot of similar topics, just in a different format," Alabastro said. "People can gain a lot of knowledge just by showing up."
Held in Ms. Julia Smith's room (2104) every Thursday during pit, members can participate in multiple clubs during school hours since meetings are not held on typical club days. If busy with tutorials, making up a quiz, or cramming for a test, it's all good. Writer's guild doesn't have attendance requirements and posts slideshow information to their google classroom.
"I'm really busy otherwise so I don't have a lot of time to write, which I really enjoy, so it's a good opportunity to do something that I really like doing and just have that time to do it with people who can help you to do it better," member Angelica Burtscher said. 
Though many members may choose the same prompt to begin writing from, all have differing perspectives, unique quirks to contribute and take a simple idea or approach to a concept and turn it into a complex narrative. 
"It's a place where I can go and learn how to be a better writer because I don't really feel like I get that in my normal classes," member Lacie Horton said. "I'm not taking a creative writing class or anything so it's just kind've a place where I can talk to people my age doing the same things that I'm doing."
When sharing an idea to others or even an entire excerpt from an original story, members may share critiques with others, as long as it's constructive criticism. Keeping the club respectful and open to different opinions is essential.
"In a room full of writers, they can all  help you get better," Burtscher said. 
Exceedingly communicative, it's writer's guild, after all, leaders and members openly converse about different topics and personal opinions surrounding each. Leaders Chaffee and Alabastro encourage feedback from members on ways they can improve the club. Writing junkies themselves, the two have worked together to form a perfect union that anyone can find solace in.
"It's this happy, safe environment where you can work on your writing skills with other people," Horton said.