FFA dominate competition
Rabbits, goats, lambs, and pigs all being brushed, and groomed, every little detail being fixed, they are prepped to perfection to look their very best for the FFA show.
On Jan 21-23 the FFA show was held at Leander High School. The show is a competition where all students participating brought their animals that they were raising to be judged and ranked based on health and appearance. They then received awards based on how they placed.
"When I got there I was so nervous. I was hoping that all my hardwork would pay off." Lenora said. "I put so much work into it, I think raising the rabbit was harder than the show itself, but it was worth it." 
The competition started with the students arriving, and checking in. Once their category was called based on their animal they went and put their animals on a stand for the judges to be able to assess them. After they were done they returned to the waiting room and waited for the results.
"I got my rabbits back in December, and ever since then I was taking care of them," junior Rachel Yang said. "Preparing for them I had to buy a cage, toys, hay, bedding, and feed."
Rachel Yang and sophomore Lenora Vancini both competed, and raised rabbits. Since receiving their animals they have been  feeding them, playing with them, and making sure they were healthy and on track to perform well in the show. 
"A week before we had to start brushing the bunny, and feeding Chaos more. I had to buy a carrier for it, since you couldn't just walk in with a bunny leash or anything," Vancini said. "And then, there was a touch section so I did have to  touch her to make sure she wouldn't bite the person doing it, so I had to prep her for it."
Vandegrift students placed high across all of the events, including Yang and Vancini whose rabbits placed 4th and 6th respectively in the breeding doe rabbit category.
"It's a very good experience. If you don't have a pet, or you do have a pet and you want to learn how to take care of it yourself, it gives you a lot of responsibility," Yang said. "Raising rabbits during COVID, even though I only raised three rabbits was hard. Originally you were raising five and I cannot imagine doing that, it's like taking care of five children that's how hard it is; it takes a lot of responsibility and judgment."
Overall, the process took from November or December all the way to the end of January, and it entailed countless hours of looking after their animals.  
"My favorite part of the whole experience was the ending, but in the sense that my hardwork had paid off," Vancini said. "I had been taking extra good care of my rabbit so that she would do well in the school show, and it was relieving to have the pressure taken off my shoulders."
About the Writer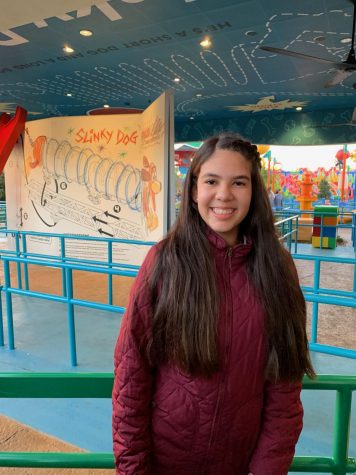 Arabella Villarroel, Staff Reporter
Arabella is a sophomore, and this is her first year on the newspaper staff. She loves to bake, read, write, travel, and loves anything and everything Disney!