Viperbots game kickoff
Hang on for a minute...we're trying to find some more stories you might like.
The Viperbots are given a new game every year to compete in at their contest. Each game comes with new challenges, new rounds, new teams and new robots. This year's game, called "Cascade Effect," consists of just as many challenges as any previous competition, if not more. Each team works year-long to prepare themselves for qualifying rounds and try to push themselves to make it to the final competition, Worlds, which is held in April.
This year's game was revealed to the Viperbots and 28 other teams from Central Texas last Saturday. Students were given instructions on how the game is played so all teams can design their robots accordingly.
"It's going to be a lot of fun," Quad X team member Linea May said. "I've looked over [the instructions] three or four times and I'm still learning new things."
Vandegrift hosted Saturday's workshop and besides learning about the new game, it was used as a team-building exercise and community outreach to teach students and teams from other schools. Games were played, new recruits were trained and taught and teams were put against each other for practice.
"It's good to know who you're competing against," engineering teacher Martin Wiedenmeier said. "There are a lot of new faces every year. It's good to get to know everybody."
Cascade Effect consists of three rounds. In the first round, Autonomous, the team members are instructed to program the robot to drive itself for 30 seconds and complete challenges. This is also the round where the most points can be scored. In the second and third rounds, Tele-Op and End Game, the robots are hand-driven and made to do things such as scoop up balls and move tubes.
"Everyone was really awed by the game," Wiedenmeier said. "It's going to be a lot of work. I'm not sure how we're going to do it."
The first qualifying round is on Dec. 6, where the game will be played for the first time and teams will move up in the rankings. On top of class and meetings before and after school to practice, Viperbot members attend a build day each month dedicated to working on the robots and preparing for the games.
"You always ask your teacher, 'When am I going to use this in the real world?'" May said. "This is the most real-world you're going to get."

About the Writer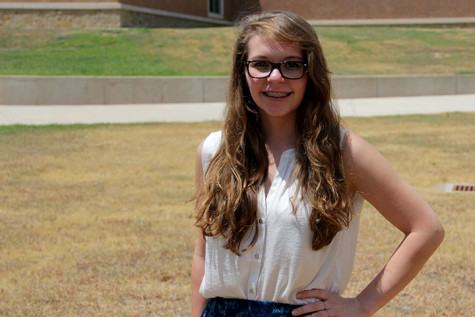 Laura Figi, Web Editor in Chief
Laura Figi (though commonly referred to just as "Figi") is the Web Editor-in-Chief for the 2015-2016 year. She enjoys writing and competing in UIL for the journalism team. Laura is Historian of the French National Honors Society, and a member of French Club and Philosophy Club. Outside of school Laura enjoys playing ukulele, singing, taking pictures of bands and downtown Austin, and playing video games. Laura plans to go to college in-state and study newspaper/broadcast journalism, photography and French.