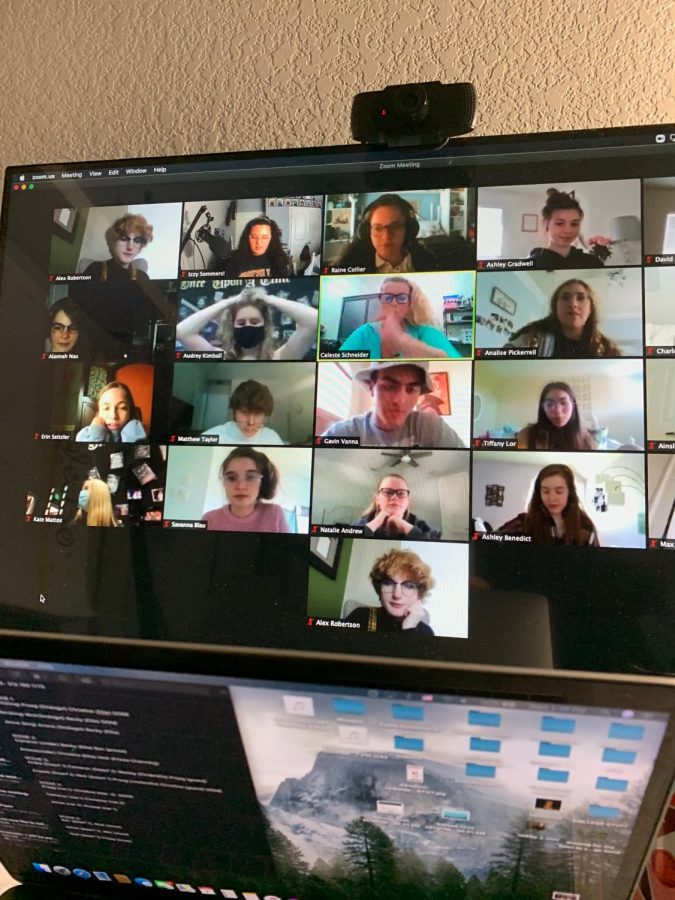 A passion for theatre and the future still shines through
Theatre student shares pandemic changes to program
Whether searching for the right wardrobe to fit her character's persona, memorizing lines, collaborating with fellow theatre students or leading a production of her own, sophomore Emerson Hartman still has high hopes for the theatre department and herself this year, despite COVID-19.
Being a contact art, theatre is usually dependent on individuals working together, especially being in the same room. Due to COVID precautions, theater students are doing their classes virtually, changing the dynamic of the entire department's environment.
"Usually we are assigned projects and given a week to two weeks to do the projects right now and we present them over zoom," Hartman said.
With no ongoing productions, there are no rehearsals. Without rehearsing for an upcoming play, teachers have had to present alternative tasks.
"One was we had to create our own musical using three songs and they could be original songs or just songs that were on this list that our theatre teacher would give us," Hartman said. "We had to cast, we had to write all the script and basically we would film all our parts and compile it and we would have a musical and would share it over a google drive."
With casting for their own home production, students can be introduced to more students with similar interests, however the general communication between students has taken a downfall.
"I'll have people in my class and I hardly know anything about them. So, I kind've hope that we do a lot more social stuff in zoom and just kind of talk and get to know each other because that's something I truly do miss," Hartman said. 
While general communication between students is at a lower point in theater compared to last year, theatre teachers are still being very positive amidst this pandemic.
"Beyond Vandegrift, Broadway is struggling, West End is struggling, everywhere theatre is struggling right now," Hartman said. "So, our teachers are just trying to help us see the light at the end of the tunnel." 
A current project assigned by the theatre department to students is to research what Broadway jobs they are interested in.
"It's really cool and it helps you think about your future," Hartman said. "When all of COVID-19 dissipates, our future and what we're going into and how we are going to do it." 
Students' goals have changed too. With a lack of in-person classes and productions, some opportunities have been lost.
"I would have been in way more productions at this point this year than last year because we didn't have a fall musical, sadly," Hartman said. "We didn't have our play that was supposed to be going on this January. There was just a ton of performance things that were supposed to happen, but just didn't."
Despite these setbacks, Hartman won't let herself fall behind and is still devoted as ever to her passion for a career in theatre.
"The theatre department, that is truly my home and I absolutely love that place," Hartman said.
Whether it's students making the best out of a home production, reaching out to fellow students in collaboration for a project or even teachers drive to stay positive throughout these stressful and dark times, their love for theatre is still shining through.
"It's not the end of the world, truly," Hartman said. "Yeah, there's horrible things going down but there's always a light at the end of the tunnel. Things will get better."