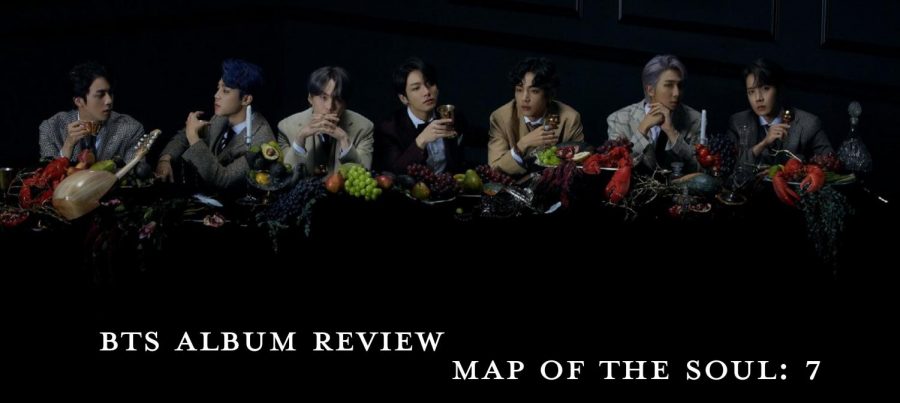 BTS returns with a heart-stopping album
I'm sure you've heard of BTS and their massive fanbase known as ARMY, watched them on TV performing for award shows, but you don't really know BTS until you've listened to their music. BTS released their fourth full-length studio album last Friday, "MAP OF THE SOUL: 7." This album continues from their previous mini-album "MAP OF THE SOUL: PERSONA", which uncovered the path of joyous discovery one travels to find out who they are. While "MOTS: PERSONA" is a lighter collection of songs, "MOTS: 7" uncovers the path of dark shadows that come with oneself as they try to find their individuality.  BTS has never disappointed me and they sure didn't start now with this album of multi-genre records that retell their journey of seven years as seven members. 
Track 1: Intro: Persona
The instrumental of this track is unique and definitely stays true to RM's sound. RM, or Kim Namjoon, the leader of BTS and one of three main rappers, begins this album with a true solo prologue about questioning one's purpose, who one is supposed to be and what self is the truth. The underground, garage-band sound mixes well with his message by keeping it personal and raw. The rawness encompasses the entire meaning behind this album: the darkness of growth and discovery. 
Track 2: Boy With Luv (feat. Halsey)
As the worldwide single from their mini-album, 'Boy With Luv' brings a lightness to the album that completes it. Although the sole purpose holds one of shadows, questions, doubts and failure, this track confirms that while the journey to finding one's self is treacherous there is still happiness, companionship and love. 
Track 3: Make It Right
This song comes off of their mini-album, this song remains timeless. With a funky-pop beat, this song brings a message of making things right between lovers in the depths of endless journey and struggles. It's a love song that's uplifting and although it's not my go-to track, it always happens to make things right when everything feels wrong. 
Track 4: Jamais Vu
This lyrical masterpiece and instrumental beauty flow gloriously from beginning to end, just like my tears when I listen to it. This song is sung by a subunit with vocalists Jeon Jungkook, Kim Seokjin and rapper J-Hope also known as Jung Hoseok. Jamais Vu means to momentarily forget something familiar in which they sing about how one's shadows begin to alter their relationship with their lover. It's heartfelt and healing because they sing that they will never stop running on their path despite the shadows and rocky love.
Track 5: Dionysus
"Dionysus" drastically juxtapositions its former track. This drum-based, trap, hip-hop record jumps into your bones and brings forth confidence, creating a feeling of absolute power within oneself. Dionysus is a Greek god who ravishes his followers by freeing them from social constraints, which coincides directly with BTS' message of self-love and acceptance. It's a toast to being your true self without apology. 
Track 6: Interlude Shadow
Rapper SUGA, also known as Min Yoongi, wrote and sang this track. It's a transition from the mini-album tracks into the new tracks solely belonging to this release. I have cried endlessly to this song. In the beginning, RM was exhilarated about his journey, but SUGA contradicts that energy with a melancholy begging. He is where he is supposed to be and wanted to be, but it isn't happiness he has found. He sings about his shadows following him and drowning him in loneliness, fear and his two personas – SUGA and Yoongi.
Track 7: Black Swan  
This was the lead single from the album. "Black Swan" utilizes beautiful overlapping vocals, strings accompanied by electric beats and a melancholy overlay of airy harmonies. It contrasts with their previous records, which encourage self-expression. Instead, they ask what they're to do. They plead for guidance and they beg to not lose their love, muse, passion and dedication for music. "Black Swan" expresses how more people are hearing of them but not hearing them.
Track 8: Filter
One of the main vocalists, Park Jimin, comes onto the album with this solo track. The instrumental has a heavy staccato acoustic guitar and Hispanic-esque sound. Despite the seemingly happy sound, the lyrics juxtapose its music by explaining Jimin as a filter. You can pick and choose what you want to see of him, which persona you want from him, and he will conform. The sound mixed with the lyrics creates a sense of gritty frustration toward the unrealistic entertainment standards.  
Track 9: My Time
This track is sung by Jeon Jungkook and is gorgeously produced. Jungkook recounts his emotions from a K-Pop trainee to a member of BTS to now seven years later. Although he's had hardships and was not able to grow up 'normally' due to his idol title, he grew up with BTS and ensures that their journey together is forever. 
Track 10: Louder than bombs
This track is very special to me and is ultimately one of my favorite BTS songs. The dark trap, low vocals, light harmonies and rough rap brings forth a powerful track about the love and support from BTS to ARMY's. Addressed to ARMY, the song describes how despite being consistently drowned by the horrors of society and destruction of the world, BTS' music and their bond with fans is and always will be stronger than all the background noise. 
Track 11: ON
This song dropped as a single the day the album was released and the hip-hop funk beat immediately calls for dancing. It's a track about the power within oneself and expresses no matter what tries to kill them, they will never succumb and will welcome the pain (hence the repeated lyric "bring the pain on") because they will continue to conquer without hesitation. The bridge is sung by Jungkook and is a beautiful juxtaposition of soft, airy head voice compared to the rest of the track. Overall, it's a stunningly unique, upbeat track but nevertheless has meaningful lyrics. 
Track 12: UGH!
This cypher is a subunit between the rap line consisting of J-Hope, RM and SUGA. "UGH!" is angry, intense, beat-heavy and has sound effects that completely enrapture the song's message about hate comments. BTS may be flooded with love, but they also drown in hate. The rappers are notorious for classically clapping back through their music and this song conveys their journey of love and hate from society. 
Track 13: 00:00 (Zero O'Clock)
The vocal line's subunit songs never fail to make me emotional. Kim Taehyung/V, Jimin, Jin and Jungkook speak directly to ARMY. Accompanied by guitar, drums and electronic beats, the vocal line sings about how although you may be going through a rough time or having a bad day, it will end and restart at 00:00. They never fail to make me feel loved and they make me believe that "I'm gonna be happy." 
Track 14: Inner Child
Taehyung's solo track of  "MOTS:7" refers to his reflections of his past self going through hardships. His journey has been ridden by struggles and his younger self is "gon' change" as he grows and discovers happiness. BTS, especially Taehyung because he's my bias, never fails to make me feel enlightened and joyous. This song brings a hopeful light that shines upon one on their journey of self-discovery.  
Track 15: Friends
"Friends" retells and describes the blooming friendship between vocalist Taehyung and Jimin. The song shows a perspective about the journey to discover who one's soul is by highlighting the friendly soulmates we make that help us through. The instrumental is dreamy and light and Taehyung's deep baritone with Jimin's airy head voice contrast gorgeously. 
Track 16: Moon
Track 16 of  "MOTS:7" is sung by Jin and is an honest appreciation song to ARMY. He personifies the moon to be himself and ARMY to be the plants he orbits around. His voice is unique and extraordinary in vocal range which makes this track so pleasing to listen to. This song really touches me and truly communicates how important we are to BTS and them to us. 
Track 17: Respect
This subunit song between Namjoon and Yoongi brings a 90's hip-hop beat to the album's already genre-diverse tracklist. Respect in Korea is very important and I like how that influences this song. They question what respect really is and reflect on the disrespect we see emerging among society. It's an adorable song between them and shows their playfully energized friendship. 
Track 18: We are Bulletproof: the Eternal
BTS has two parts to the song "We are Bulletproof" and track name infers this is the last installment. BTS stands for Bangtan Sonyeondan, which roughly translates to Bulletproof Boy Scouts. The entire group sings about how it was just the seven of them but now they have ARMY and together we are eternal. Our bond is forever and it's bulletproof. Although they have been afraid to fly or been too overwhelmed by hatred or overcome by hardships, they have reached "heaven" through ARMY. They have us as we have them. Our love is forever. Our love is bulletproof. Our love sings to BTS as they sing to us. We are complete only with each other. 
Track 19: Outro: Ego
This ending track is a solo rap by Hoseok. His rap style is a coalition of styles completely unique to him and this song really closes this album out thoroughly and completely. J-Hope raps about his overcoming thoughts about flying and living as an idol in the spotlight. It is the epilogue to their shadows but never to their journey. They will continue to grow and hold tight their pasts. We all have an ego and yours will grow and flourish as you become yourself – as you accept and find your soul. 
Overall, this album leaves me speechless despite my commentary. BTS means the world to me. They have saved my life and I am eternally in love with their music, passion, dedication and character. They sing about real issues and they never fail to bring happiness and joy to my life, even when my own shadows distract my path to finding my soul. When I can't read my map in the pitch dark, they guide me back home to the light. Forever, "We are Bulletproof".