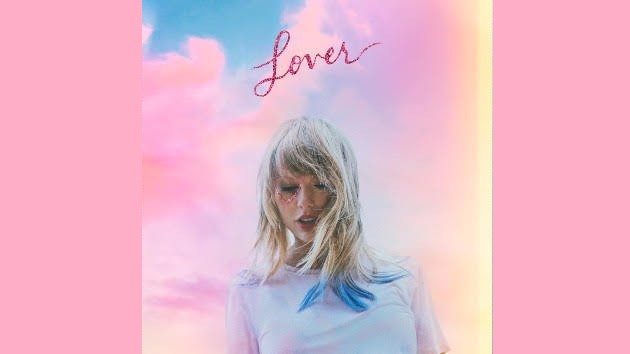 Graphic made by Claire Lawrence. Album art contributed by Republic Records.
A 'Lover' like no other
Taylor Swift comes back with refreshing new album
This past Friday, Taylor Swift released her seventh album, "Lover", a romantic and mystical collection of songs about relationships, family and self-love. As a die hard Taylor fan, I made sure I stayed up till midnight on Thursday to be one of the first people to hear the album. While on the phone with a friend, we both listened to the 18-track album, without stopping or falling asleep, and dove head first into the meaning behind every word.
Here's the rundown of every song from start to finish and the captivating messages behind them.
Track 1: I Forgot That You Existed
  As an opening track, this song perfectly captures the new sound Taylor is going for with an upbeat and pop-driven chorus, along with classic song-writing techniques that effortlessly describe a past relationship/friendship that didn't seem to end well. The song features a giggles and vocal inflections that add a flare of personality, which can be hard to find in pop songs nowadays. Considering it was the first song I heard, not including past singles that were dropped before the albums release, I wasn't surprised that I became fully intrigued and was left hopeful to what I was going to hear next.
Track 2: Cruel Summer
In terms of pop music, Taylor slays the game yet again with this track. Boppy verses with a synthy beat builds into smooth and chirpy chorus that contains a catchy tune. After hearing the first track and then immediately turning over to this one, I was a little taken aback with the busy and overcrowded music. In the end, though, it definitely grew on me. "Cruel Summer" is the type of song you'd play while driving along the west coast with friends during spring break. Not necessarily a party song, but rather something that would make even shy people sing along to.
Track 3: Lover
This was the third single Swift released just a week before her album dropped. Not only is it the title track, but it's also a song that perfectly depicts just how much the theme of love is present in this album. It's the song my parents listen to the most on repeat, and it's one I'm sure couples wouldn't mind dancing to at their weddings. The echoey effect on her voice makes it feel as if she is singing to an empty arena and leaves me with chills, despite having heard it a million times. "Lover" is definitely one of THE best love songs I think Taylor has ever written, and continues to make me smile everytime it plays.
Track 4: The Man
The experimental synth-driven sound that was executed in Taylor's last album, "reputation" is brought back yet again, this time with an even stronger message. Personally, I didn't enjoy the music of this track as much as I did the others, but the lyrics and underlying connotation makes up for it. She sings about gender equality in the music industry and how her life as a pop star might've ended a lot differently if she were to be a man rather than a woman. The bridge is probably this song's best feature, consisting of a catchy tune and some lyrics that will make your jaw drop.
Track 5: The Archer
Swift released this song a few weeks before the album came out not as a single, but rather as a gift to her fans. It's common for her to include some of her most passionate and emotional songs as track 5 in her albums, and after her two upbeat singles were released, Taylor decided she wanted to present this song as well to show the "other side of the album". This song is a personal dive into relationship anxiety and fears about growing up and failing the people she loves. An airy beat and synth piano that continuously plays in the background leaves listeners refreshed, while also managing to make a few tears drop every now and then.
Track 6: I Think He Knows
Similarly to "I Forgot That You Existed", this song contains an upbeat and pop sound that can make anyone start dancing in their seat and vocal inflections that add unique personality. It's also one of the few songs on the album that comes across as mature, in the sense that Taylor sings about making someone fall in love with her while also falling herself. She takes listeners through the feelings you get when a relationship is full of fun and laughter. One of the features I enjoyed the most was the snaps that play on beat. Surely it could make you snap along too and turn any bad mood into a good one. 
Track 7: Miss Americana & The Heartbreak Prince
This song is one of my personal favorites off the album, with a mysterious vibe and mystical chord progression. The entire song is written as one giant metaphor, comparing her fears about a relationship to a highschool experience. One of the most interesting elements in this song was pointed out to me by my friend, which is the samples of cheerleaders screaming the words "go", "fight" and "win" during the bridge and ending chorus. Swift writes a message around those words, which just adds to the metaphorical highschool football game she is playing. Along with the ominous feeling listeners get when first hearing the music, the spine-chilling message Taylor manages to write also leaves a substantial impact.
Track 8: Paper Rings
The first verse of things song IMMEDIATELY pulls listeners in with a distorted effect on Swift's vocals and deep bass that give it almost a retro vibe. That shifts into a more fairytale feeling when the chorus rolls around. This is one of the best tracks on here, becoming the ultimate romance song for anybody who feels head-over-heels in love with their significant other. She sings about being so infatuated with someone that she'd "marry them with paper rings," which is one of the cutest lyrics I've ever heard. It's the type of song that can make someone feel in love even if they aren't even in a relationship. 10/10 recommend. Would listen again. 
Track 9: Cornelia Street
At first, this song seemed like it was going to be on the sadder side of love, but I quickly realized that's not at all what Swift had in mind when producing this track. This 5-minute long romantic, soft pop ballad goes in detail about the ups and downs experienced through a long-term relationship and how in the end, it all ends well. By the time the second verse hits, she's already pulled you in with loving lyrics that makes it feel as if you're dancing under the stars with your soulmate. In fact, this is one of the songs Taylor said she was most excited for people to hear when doing interviews before the albums release, and now I can totally understand why.
Track 10: Death By A Thousand Cuts
At first glance, the title made me think this was going to be a darker and more fierce song with back-stabbing messages, but just like "Cornelia Street", I was surprised. The song starts with layered angelic harmonies, which were nothing like I was expecting. Not only that, but the chorus of this remenisant track has a heavenly piano sample and an electric guitar riff that takes me back to early 2000's music. Taylor shows off her song-writing skills yet again by comparing the heartbreak of missing a partner to the feeling of "death by a thousand cuts", a metaphor that highlights just how much pain she feels. I mean, distance is said to make the heart grow stronger, right?
Track 11: London Boy
The attention of a listener is captured by two men with british accents speaking in the first 7 seconds of this track. No one knows exactly WHO the men speaking are, but Taylor doesn't let you question that for long because she almost immediately comes in with a bass beat and killer vocals. This song is basically a 3-minute long, upbeat poem dedicated to her boasting about how in love she is with her "London boy". It's also a song that features more of Taylor's giggly personality that leaves her audience smiling and fans dancing. 
Track 12: Soon You'll Get Better (feat. Dixie Chicks)
After hearing Taylor say in an interview that she can't sing this song live yet because it still makes her too emotional, I wasn't really looking forward to listening to it. Not that I thought it was going to be a bad song, but rather a song that was probably going to probably make me cry. In this acoustic, soft-spoken ballad, Taylor sings about the emotions and experiences she dealt with during her mom's long battle with cancer. She is joined by the Dixie Chicks to make for a beautifully harmonized chorus that leaves chills. The lyrics of this song is probably what it makes it the saddest track on this album, so if you listen to it pay close attention. And make sure you have some tissues nearby. 
Track 13: False God
After getting through the emotional frenzy the last song throws you in, Swift awards you with a mature and intimate track led by a steady bass and husky saxophone. I don't think I've ever heard a Taylor Swift song with a saxophone in it, so it was refreshing and something I'd definitely want to hear again in the future. As another favorite of mine, "False God" is basically a song in which Taylor reminds herself and her fans that she's not a little girl anymore and has experienced such strong feelings toward someone that she felt the need to compare it to religion. Afterall, she is the queen of metaphors in her songwriting, as we've witnessed earlier in the album. 
Track 14: You Need To Calm Down
This was Taylor's second single, so I listened to it beforehand instead of with the rest of the album. It has a boppy beat that is reminiscent of the 70's and gives off a lot of hippie vibes. As most of us already know, this track is basically a massive gay anthem and a song people can sing to when they're feeling down. It's a song that I never want to skip whenever it comes on shuffle, or one that makes me want to change the station whenever it comes on the radio. Overall, it might forever be a classic Taylor Swift bop.
Track 15: Afterglow
A deep base starts off this track as Taylor's romantic vocals intertwine with the beat and automatically makes a fan want to listen more. This might be the most underrated love song on this album, but that doesn't mean it's not one you don't want to pay attention to. She sings in a pleading tone to her lover not to leave her and to stay despite their flaws. Considering it's closer to the end, this track is a great example of the character development Taylor as an artist experiences throughout the album. It's a bit on the longer side, but always seems to end too soon, with the mystical instrumentals drawing out time and making you wish you could listen to it for hours on end. 
Track 16: ME! (feat. Brendon Urie of Panic! At the Disco)
As the first track to be released as a single, it was supposed to convey the sound Taylor was shriving for in this new era. I was a little disappointed with it when I heard it for the first time, but eventually it grew on me. Overall, it's just a song to get people dancing and singing along, and every album needs one of those! Was it overproduced? Slightly, but I still don't think the album would've felt complete without it. 
Track 17: Nice To Have A Friend
Playing the highschool metaphor again, Swift writes this song in a unique pattern that eloquently tells the love story of two strangers throughout their childhood. Comparing it to the rest of the album, this song has a one-of-a-kind sound she's never really experimented with, showing just how much her songwriting has evolved and how versatile she can be with her music. This song also has a fairytale feel to it, similar to "Paper Rings", but with production like no other. It's definitely one of my top three favorites. 
Track 18: Daylight
Finally, we've reached the end of the album with this daydreamy closing song in which Swift sings about putting her past behind her and looking toward the future. It has a similar vibe to "Cornelia Street", with more acoustic based sounds and a bigger focus on lyrics. It's the perfect way to close an album, I think, with Swift managing to almost reinvent her songwriting in a way that's never been done before. "Daylight" serves as the only song on the album anybody and everybody can take something away from. Revisiting her past and the lessons she's learned, Swift leaves her listeners with a small, spoken letter in the last minute of the song, speaking out on things like love and remembrance. 
If you were to take the first line she sings at the beginning of this album and compare it to the last line she says at the end, you would be able to fully comprehend the growth Taylor Swift has experienced as a singer-songwriter. This album goes through and manages to tell a complete story she's experienced as a growing adult who lives in the spotlight, is known for her reputation and is totally and completely in love.