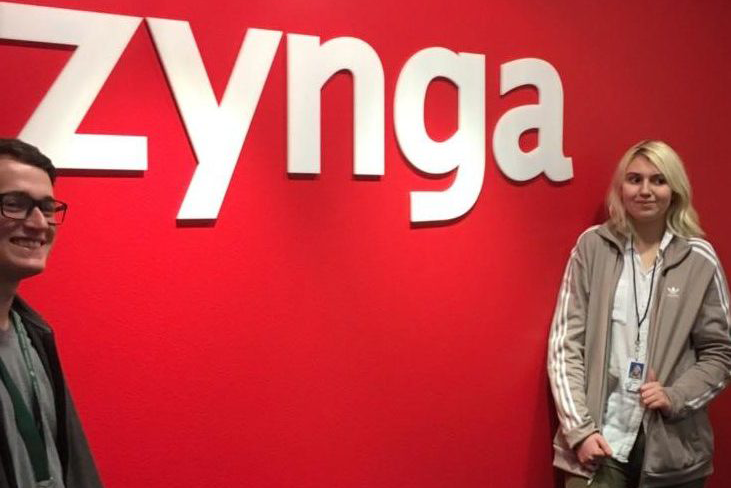 Sarah Spradling
Sofi Suerkan
Dogs in the office? This could only be paradise. Senior Sophia Suerkan job shadowed at Zynga, a game developer company, for a day during COOL Week. She was there from about 10 a.m. to 3 p.m. During her day there, Suerkan job shadowed all sorts of people. The other students and she walked around and got to sit in on people doing their normal, everyday jobs.
Suerkan spent a lot of time going around the office seeing what different positions there were. They got a chance to talk to a lot of people seeing what they do, getting hands on experience on what goes into the video game industry.
"We kind of shadowed a little bit of everything, we talked to people who do cyber security, engineering, people like that," Suerkan said. "I spent a lot of time looking into artists and designers, things like that because that's kind of what I'm interested in. I got to have some one on one time talking to someone who works in art and development. I was able to sit down and see what he does and talk about the things that go on in that career."
Suerkan said she liked the laid back office environment. There wasn't a strict dress code and people were allowed to bring their dogs to work.
"It was scary to talk to people one on one, asking them how they got there and just kind of making myself vulnerable and asking for advice was nerve wracking," Suerkan said. "But I really liked being able to meet people from the industry [I'm interested in] and just see first hand what kind of involvement there would be. It was really eye opening to just get to see what might possibly be in my future."
Suerkan said she learned about the gaming design and process. She said learned a lot about specific field too, having that insight with someone else that has gone through the process already was helpful for her. She said she feels like it made her much more prepared to take those steps and get into the industry.
"If anything, this experience made me want to go and (be a videogame designer) more because now I have the confirmation of what it's going to be like, this is what I see for myself in the future and it kind of solidified that want for me to go and get into the video game industry," Suerkan said.