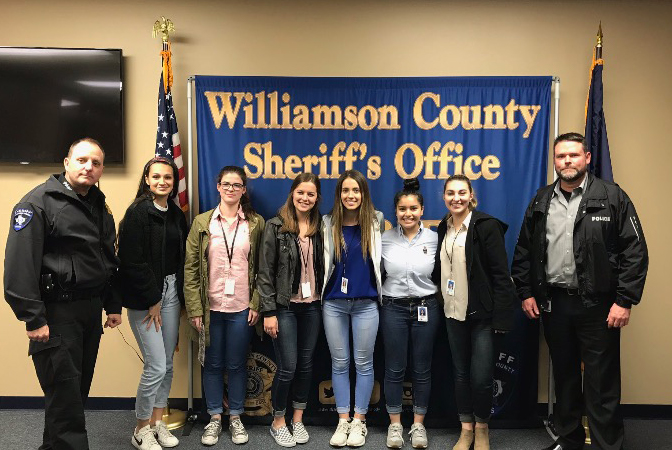 Alexandra Spears
She fixed her eyes on the brand new bulletin board covered with police officer patches, a badge and a list of FBI's 10 most-wanted fugitives. It also held her very own identification tag that read: Alexandra Spears, AG Criminal Investigator.
Last week, senior Alexandra Spears shadowed Chief Paul Taylor of Jonestown Police Department as part of LISD's Career Opportunities On Location Week. COOL Week gives seniors at LISD schools a glimpse of real-world experience in the field they are interested in pursuing a career. For Spears, it was law enforcement.
"It was amazing to see how the police station operates on a day to day basis and to get an inside look at what life as a law enforcement officer is really like," Spears said. "Chief Taylor taught us a lot and facilitated the process of making important contacts in the industry which helped us all get a good foot in the door."
Spears said Chief Taylor taught students a lot during the five days they spent at Jonestown P.D. Her group went on field trips, learned about bloodstain pattern analysis and steps taken when processing a crime scene. During the process, she got the chance to make new relationships with fellow students from other schools who are interested in the same career path.
"My favorite thing was getting a real insider's look at life as a law enforcement officer and being able to make contacts in the departments I'm interested in," Spears said. "It was also really fun making new friends from different schools who were similar to me and are interested in the same field of work."
After she graduates, Spears hopes to get a bachelor's or master's degree in college, gain law enforcement experience and eventually apply to the FBI Academy.
"My goal is to become a detective before becoming an FBI agent and COOL Week really allowed me to get a glimpse of that life," Spears said. "It was honestly the best week of my high school life."
However, Spears was not the only student who spent the week at Jonestown P.D. Five other girls from different schools experienced a glimpse of what it is like to be a law enforcement officer.
"I was surprised to find out everyone at my COOL Week placement was a female," Spears said. "It was awesome to see that the law enforcement field is finally diversifying more and becoming a more inclusive line of work for females that are very interested in that line of work."