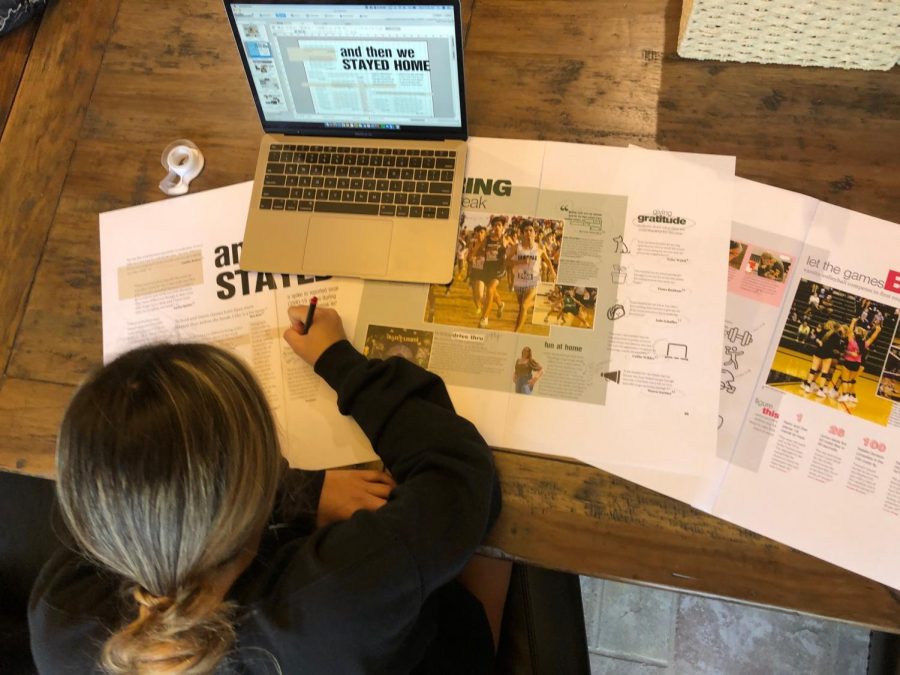 A candid year
Yearbook adapts to the challenges of COVID-19
Her mind began to whirl with ideas as she brainstormed each detail of her page. From the layout of the pictures to the words on the page, she wanted to put her best into this page of the yearbook.
Editor in chief of the Yearbook staff, senior Vicky Guerrero, has worked with her team to adapt to the endless changes of the pandemic as well as cover the monumental events occurring this school year.
"We've been able to get really creative in Yearbook," Guerrero said. "There's some new things that haven't been in the book before, and we are also trying to include more people now that it's virtual and we have a lot of quotes from a variety of people."
While the team has found many ways to take on the changes COVID-19 has brought, Guerrero said that they've had to find new ways to function, such as giving everyone in the staff access to all the yearbook files and find new ways to create content to replace the  spaces of untaken photos.
"It's been very hard to contact people this year because normally we can just call them into the Yearbook room, interview them super quick, and then have their quote," Guerrero said. "But now we have to hunt down people on text or email, and it's a lot harder to communicate with people than years before."
Throughout each benefit and challenge, Guerrero has learned a few lessons from appreciating her staff and the importance of a good leadership system.
"I've learned to just appreciate what I have," Guerrero said. "I used to love doing work nights with my Yearbook team and getting to know the new Yearbook staff, but now things are so different and I have to work a little bit harder to get to know everyone on the Yearbook staff. I would also say that having a good leadership team is what's helped us in Yearbook this year. We have separate teams with team leads on each team that communicate to the editors and to our teacher."
As the editor in chief, Guerrero said she has tried her best to use her position to spread positivity towards other team members. She also recognizes the efforts of others to step up to the plate this year and take on responsibility.
"I try to always stay positive and be super helpful just so people can look up to me as a positive influence," Guerrero said. "I try to show them we have to work with what we can and this is the best that we can get it to be with the circumstances that we're in. I've seen [junior] Allie Smith step up and volunteer to take on the senior ads. Normally, that's a really big task that takes a couple of people, and she's had to tackle that all by herself, so she really stepped up and was able to figure out the new yearbook platform that we're using, and take a big stress off of all of our shoulders."
Guerrero said she has seen the hard work that each member of the team has put in and appreciates their commitment. She hopes to see more aspiring journalists join Yearbook in the future and leaves them some advice.
"I would say to just work hard and stay determined," Guerrero said. "And keep your creative juices flowing because we always need more creative people bringing new ideas and helping the book be more creative."